Kim Jong-nam killed by chemical weapon: police

Al Jazeera
24/02/2017
Malaysian police say a preliminary report shows the murder of Kim Jong-nam, the half brother of North Korean leader Kim Jong-un, was carried out with a nerve agent used in chemical warfare.
WATCH: Malaysia police chief says no next-of-kin has come forward in Kim Jong Nam murder
التالي
A statement on Friday from the inspector general of police said that a preliminary analysis from the chemistry Department of Malaysia identified the agent at "VX nerve agent".
VX nerve agent, or S-2 Diisoprophylaminoethyl methylphosphonothiolate, is chemical weapon classified as a weapon of mass destruction by the United Nations.
ALSO READ: How the hit team came together to kill Kim Jong Nam
Kim, the estranged half-brother of North Korean leader Kim Jong-un, died after two women attacked him at Kuala Lumpur International Airport last week as he was preparing to board a flight to Macau.
Police have not said how the women were able to apply the nerve agent to Kim's face and also avoid becoming ill themselves. It is not known if they were wearing some sort of thin gloves or if washing their hands quickly removed the danger.
IN PICS: Facts about Kim Jong-un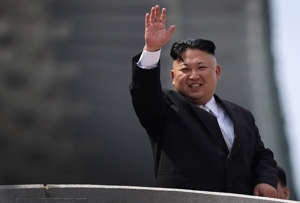 Police had said earlier that the two attackers rubbed a liquid on Kim's face before walking away and quickly washing their hands. He sought help from airport staff but died before he reached the hospital.
North Korea's official, state-controlled media mentioned the case for the first time on Thursday, saying Malaysia's investigation was full of "holes and contradictions" without acknowledging the victim was Kim Jong-nam.
The report from KCNA largely echoed past comments by North Korea's ambassador to Malaysia, but the publication of at least some news inside North Korea could be a sign of its concern over growing international speculation that Pyongyang dispatched a hit squad to kill Kim.
Long estranged from North Korea's leadership, Kim Jong-nam had lived outside the country for years, staying in Macau, Singapore and Malaysia.
The two suspected attackers, and Indonesian woman and a Vietnamese woman, are in custody.