New strategy for college visits: stay home

Reuters
06/05/2014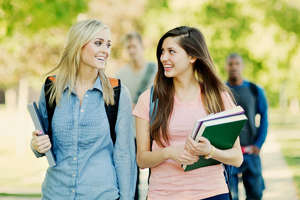 LOS ANGELES - College visits can help families find the right fit for their children, but as with other aspects of college planning, it's easy to go overboard and spend thousands of dollars in the process.
"I've heard horror stories of people traveling to 20 campuses," said college consultant Todd Weaver of Hanover, New Hampshire-based Strategies for College. "It boggles my mind."
Colleges contribute to the pressure to visit because "the statistics show that the student who visits and then gets accepted is more likely to attend," said Steven Antonoff, an independent education consultant in Denver and author of the books "College Match" and "The College Finder."
More acceptances mean higher yield rates, which helps admissions officers plan better for the coming year - plus higher yield rates can boost a college's prestige.
"Colleges are going to overstate the importance, the value, of visits," said Antonoff. "They want to get people to get to the campus."
Parents who don't plan carefully can wind up careening from school to school, spending money that might be better put toward tuition bills. A more considered approach can help families contain the costs of college visits while still benefiting from "feet on the ground" tours, college consultants said.
"It's better to visit fewer colleges well," Antonoff said, "than lots of colleges in a cursory way."
The first step is to take advantage of local resources. Visiting a variety of nearby campuses, even if the student has no plans to attend, can give the family insight into what different types of colleges are like, said Shirley Bloomquist, a college counselor in Great Falls, Virginia. A big public university will have a different atmosphere than a small liberal arts school; urban campuses will differ dramatically from suburban and rural ones.
Most people can find a wide enough variety of options within an hour or two of their home, Antonoff said. Even those who must drive further still won't spend as much on these day trips as they would for visits that require a plane flight, lodging and several meals.
Families can take all the steps consultants suggest for their "real" tours down the road: attending official information sessions and guided tours but also branching out on their own to talk to students and professors about what life at the school is actually like.
"You've got to allow that extra hour or two to mosey around, talk to students, go to wherever student life is taking place," Antonoff agreed.
The next step is to take advantage of all the low-cost and free ways to research schools, including college guides, virtual campus tours on sites like YOUniversityTV and the videos about campus life that many colleges post on their Youtube channels.
"Colleges have 20, 30, 50 videos about their dance program, about music, about admissions, about sports," said William Dingledine, a college consultant with Educational Directions in Greenville, South Carolina. "There are all kinds of things students can learn about a school right from home."
Reading the college newspaper online and corresponding with current students also can help students get a picture of life at a school, consultants said.
Once the student compiles a "want to apply" list of schools, families can begin to plan which to visit. There are a number of ways to reduce costs, such as:
- Appending college visits to family vacations
- Sending one parent instead of both to schools that require a plane trip
- Carpooling and sharing hotel rooms with other prospective students
- Planning trips geographically, so you're visiting all the prospective schools in one area rather than making multiple trips.
Organized tours that take the student, rather than the whole family, to multiple campuses also may save money.
Still, there may some visits that just aren't practical for a family's budget. A family that lives in Los Angeles might have to forgo a visit to a school in Maine, particularly if there aren't any other prospective schools nearby. The family in Boston may skip the college in Wyoming.
"I wouldn't be led into thinking a family is making a mistake if they can't visit every school on their want-to-apply list," Antonoff said. "You have to be reasonable ... there are plenty of people who can't afford to visit that are getting into those places."
Many parents don't realize that while a nearby school might hesitate to admit a student who hadn't visited, the rules are different for colleges farther away, said education consultant Deborah Fox of San Diego's Fox College Funding.
It's also okay to visit a school only after you've been accepted, Antonoff said. Those visits can be the most productive of all.
"After students are accepted, they really are much more serious about the 'fitting in' factors as opposed to the 'getting in' factors," he said. "It's all about getting the right fit."
(The author is a Reuters columnist. The opinions expressed are her own)