Osborne hails growth upgrade, sticks to austerity plan

Reuters
19/03/2014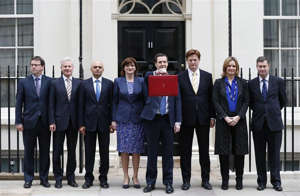 LONDON - Chancellor George Osborne announced upgrades to the country's economic growth in 2014 and 2015 on Wednesday with new projections that could give the government a boost ahead of elections next year.
Making his annual budget statement, Osborne also warned that Britain's public finances remained far from healthy and he would stick to his austerity plan.
The Office for Budget Responsibility - Britain's budget watchdog - predicted the economy would grow 2.7 percent this year, Osborne said.
That compared with a growth forecast of 2.4 percent for 2014 made as recently as December in a budget update.
"That's the biggest upward revision to growth between budgets for at least 30 years," Osborne said to cheers from members of his Conservative Party.
Growth in 2015, Osborne said, was expected to be 2.3 percent, up slightly from December's forecast for 2.2 percent.
The OBR's forecasts for Britain's economy, while higher than in December, are less optimistic than many others. The Bank of England expects growth of 3.4 percent this year, which would make Britain one of the developed world's top performers.
Despite the improved outlook, Osborne said he was sticking closely to his decade-long plan to fix the public finances.
"I have never shied away from telling the British people about the difficult decisions we face. And just because things are getting better, I don't intend to do so today," he said in his budget speech.
Osborne also said he was aiming to help manufacturers and savers with his budget plan.
(Editing by Jeremy Gaunt)