Speedskating: Suits not to blame for failures, says U.S. Committee

Reuters
22/02/2014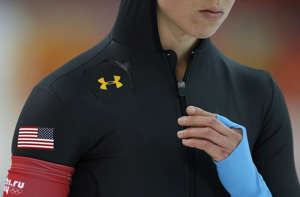 SOCHI, Russia - American speed skaters flopped at the Sochi Olympics, failing to win a single medal, but their controversial suits had nothing to do with the sub-par performance, United States Olympic Committee CEO Scott Blackmun said on Saturday.
The Americans went home without a medal for the first time since the 1984 Sarajevo Games, despite proclaiming their team of 17 skaters could match the feat of the 2002 squad who won a record eight medals at their home Salt Lake City Olympics.
"If you look at the speed skating results, we weren't the only team that got smoked by the Netherlands," Blackmun told reporters.
"They had a fantastic Games and we extend a hearty congratulations to them. In terms of what happened, I think we're fairly confident that it was not the suits."
The initial optimism was due to a high-tech suit made by Under Armour which was tested extensively in wind tunnels, but, crucially, not enough by athletes in competition.
The Dutch, in marked contrast, won 21 of 30 individual medals and had four clean sweeps at the Adler Arena in a memorable Games.
The U.S. speed skating team ditched the maligned Mach 39 Under Armour suits after failing to win any medals in the first six skating events at the Winter Games.
But a switch to an older model suit by the Baltimore-based sports apparel company also failed to reverse their fortunes.
"We want to take a look at this after the Games, we want to work in partnership with U.S. Speedskating to help them find some answers that will help them going forward."
The company has since agreed to a contract extension with the speedskating federation until 2022.
"We did have an experience with the speed skating team, that it wasn't as strong as it has been in the last Olympic Games but I think if you look at things more broadly, it's not just the U.S., the medals are getting spread around a little bit more," Blackmun said.
"The fact that we're still at the top of the medal table at least for today I think is indicative that things are alive and well in the United States in the sports world so I don't think it was a step back at all."
The United States have won the most medals so far but are in fourth place in terms of golds won with nine. Norway are top with 11.
"When things are going bad in any situation you look for things you can possibly change to see if that fixes things," U.S. speed skater Joey Mantia told reporters.
"We changed the suits and I don't think it gave us a definitive answer if it was (responsible) or not but we had to try, and we were all grateful for Under Armour for sticking with us for another eight years.
"It wasn't a personal stab at Under Armour. It didn't matter who was making the suit, we were all going to try something to see at least if that is what it is.
"It was the only variable we could change and unfortunately we couldn't skate a whole lot better but we had to give it a shot," he said.
(Additional reporting by David Ljunggren in Sochi Editing by Ed Osmond/Peter Rutherford)