New South Wales - Wine Map of New South Wales
[Do Not Use]DK Publishing
02-07-2014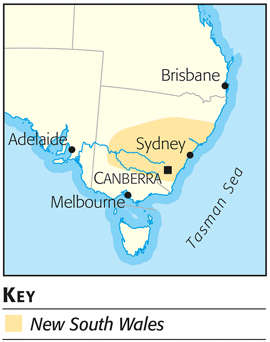 Aerial view of vineyards, Lower Hunter Valley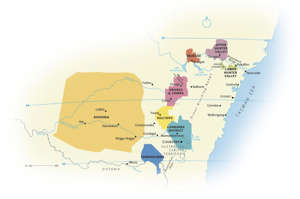 McWilliam's Mount Pleasant Wines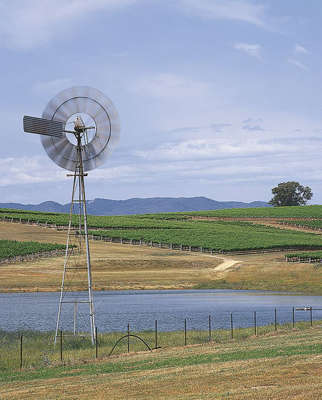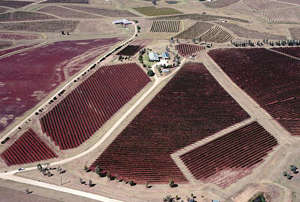 Water pump surrounded by vineyards, Mudgee
Wine Map of New South Wales

New South Wales boasts Australia's number one wine destination: the Hunter Valley. The Lower Hunter produces two world-class varietal wines—ageworthy Sémillon and earthy Shiraz. The Upper Hunter and Mudgee are associated with rich Chardonnay, while the newly emerging Orange and Hilltops areas, farther south, are delivering more minerally examples of Chardonnay, as well as fleshy Shiraz. The larger Riverina area, known for its bulk production, also makes a generous Shiraz, and Sémillon excels here, too. Toward the coast, the emerging Canberra district is delivering floral Rieslings, peppery Shiraz, and excellent Pinot Noir.
New South Wales: Areas & top producersUpper Hunter Valley
Rosemount Estate
Lower Hunter Valley
Brokenwood Wines
McGuigan Wines
McWilliam's Mount Pleasant Wines
Poole's Rock Wines
The Rothbury Estate
Tower Estate
Tyrrell's
Mudgee
Botobolar Vineyard
Poet's Corner Wines
Orange & Cowra
Hamiltons Bluff Vineyard
Hilltops
Barwang Vineyard
Canberra District
Clonakilla
Helm Wines
Lark Hill Winery
Riverina
Casella Wines
De Bortoli Wines
Nugan Estate
Perfect case: New South WalesTerroir at a glanceLatitude:
32–36.5°S.
Altitude:
10–900 m.
Topography:
The Hunter Valley, Canberra, and Mudgee are characterized by undulating hills and flood plains, while Orange, Cowra, Hilltops, and Tumbarumba are mountainous, and vineyards are therefore at higher altitudes. The Murrumbidgee River provides a lifeline in the hot winegrowing region of Riverina.
Soil:
Mostly red clay or sand, with rich volcanic soil in the Orange region.
Climate:
The Lower Hunter is warm and humid; the Upper Hunter is drier. Moderate climate (Mudgee); cool in the foothills of Mount Canobolas (Orange); warm and dry (Cowra). Riverina is hot and dry—irrigation here is vital, whereas Canberra alternates between warm and cool.
Temperature:
January average 81°F (27°C).
Rainfall:
Annual average 630–750 mm.
Viticultural hazards:
Spring frosts; harvest rain; diseases resulting from excessive humidity.