Northeast Italy - Winegrowing Areas of Trentino-Alto Adige
[Do Not Use]DK Publishing
02-07-2014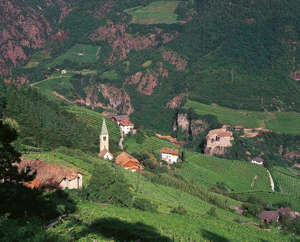 Lush vineyards of Tenuta San Leonardo in Trentino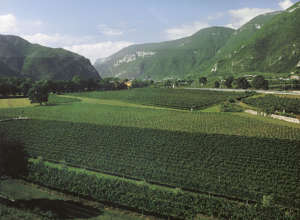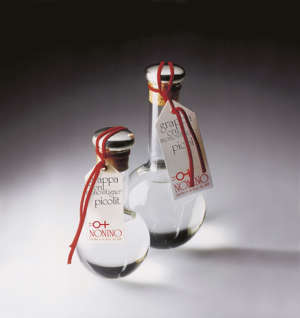 Steep vineyards in Santa Maddalena, Alto Adige
Winegrowing Areas of Trentino-Alto Adige

The districts of Trentino and Alto Adige are jointly known as Trentino-Alto Adige for administrative purposes. They are, however, two distinct wine regions, with not only separate histories and characters, but also extreme soil and climate differences. Germanic influences are strong in bilingual Alto Adige, as is evident in many of the dual place and wine names here; while Trentino is much more traditionally Italian.
Alto Adige
soil type: from glacial-alluvial to volcanic
red grape variety: Schiava, Lagrein, Pinot Nero, Merlot, Cabernet Sauvignon
white grape variety: Pinot Bianco, Gewürztraminer, Silvaner, Sauvignon Blanc, Chardonnay
wine styles: red, white, rosé, sparkling, dessert

Italy's Northernmost wine region, the Alto Adige (Südtirol) is a small and dynamic winemaking district, with only 5,030 ha under vine. It has earned a cult following in Italy for its range of exclusive, limited production wines, but it also offers excellent value with its more widely available brands.
Part of the Austro-Hungarian empire until 1919, the Valle dell'Adige (Adige Valley) was extensively planted with the rather unexciting Schiava (Vernatsch) grape to ensure the empire had a supply of home-grown red wines.
The modern wine industry in Alto Adige dates from the start of the conversion to more interesting varietals in the late 1970s. Of the new arrivals, Sauvignon Blanc and Chardonnay express the tangy fruit quality of the Alto Adige well, but even better at communicating the region's character are the very dry Pinot Bianco (Pinot Blanc) and the aromatic Silvaner and Riesling. The other authentic terroir-driven wine here is Gewürztraminer. Alto Adige's interpretation of this classic aromatic variety is full-bodied, bursting with fruit, flower, and spice aromas, and just off-dry to medium-sweet.
When it comes to reds, growers agree that Schiava, which still covers roughly half the region's total vineyard area, has to be cut back. However, a well-made example is light, soft, dry, and perfect for summer drinking. Lagrein, another local variety, is the grape of the moment. Aged in new oak to break down its chunky tannins, this very characterful variety makes dark, smoky reds with a lot of depth. The six percent of vineyard area that it occupies is nowhere near enough to meet demand, but expansion is hampered by the fact that Lagrein is very particular about its habitat. The fussiest grape of them all, Pinot Nero (or Pinot Noir), has also found a home from home in the subregion. The cool slopes above the village of Egna offer one of the very few microzones in Italy capable of capturing the elusive varietal flavors of this superb grape.
Quality-oriented cooperative wineries dominate Alto Adige's production, but there are also increasing numbers of small grower-producers who make handcrafted wines with lots of character. The majority of the wines are bottled under the generic Alto Adige (Südtirol) DOC. However, this denomination reserves some special subzone labels for: Lagrein from Gries on the edge of the provincial capital of Bolzano; Schiava wines from the picturesque village of Santa Maddalena; aromatic whites from the subalpine Valle Isarco and Val Venosta; and the intensely mineral-flavored Pinot Bianco and Sauvignon Blanc of Terlano. All are worth seeking out.
Trentino
soil type: deep gravel beds, gray marl, basalt
red grape variety: Merlot, Cabernet Sauvignon, Teroldego, Marzemino
white grape variety: Chardonnay, Müller-Thurgau, Nosiola, Pinot Bianco
wine styles: red, white, sparkling, dessert

Trentino is the entirely Italian-speaking part of the double-barreled Trentino-Alto Adige region. It occupies the lower part of the Adige, as well as the side valleys that stretch toward Lago di Garda and the Alpi Dolomitiche (Dolomites). Clever planning and faultless winemaking (the region is home to Italy's top school of oenology) have created a very market-friendly wine industry here. Trentino DOC brings together 19 varietals and a couple of blends from different parts of the subregion. Eighty per cent of this production is handled by cooperatives, another 18 percent by private bottling firms, and the rest by independent growers. Although the latter make up a mere two percent of the wine bottled in the region, their mini-productions are among the most exciting wines to come out of Trentino today. Many of these private growers opt out of the DOC in favor of the less restrictive IGT Vigneti delle Dolomiti label.
The most planted grape in this region is Chardonnay, the vast bulk of which goes into Trento DOC Metodo Classico, a wine that makes champagne-style wines affordable. Trentino is Italy's only serious producer of Müller-Thurgau, a grape that is associated with high vineyards and produces crisp white wines with a hint of grapefruit. Nosiola is another altitude-loving grape variety. It is not the world's most thrilling white in dry versions, but in the Mediterranean mesoclimate of the Valle dei Laghi it makes an explosively sweet, dried grape dessert wine called vin santo. On the red front, besides Cabernet Sauvignon and Merlot (Trentino was the first region in Italy to make Bordeaux-style Cabernet-Merlot blends), the region has its own share of local varieties. Potentially the most interesting is the dark, dry, and full-bodied Teroldego. This grows only in a small gravelly area on the floor of the Valle dell'Adige called the Campo Rotaliano, and makes Teroldego Rotaliano DOC. Then there is Marzemino, an easy-to-like red from the south of the region. Mozart's librettist Del Ponte rated it so highly that he wrote it into the final act of Don Giovanni.
Grappa's new image
Grappa is made by refermenting and distilling the skins and seeds left over from winemaking. It has been brewed for hundreds of years across northern Italy, but has particularly strong traditions in Trentino-Alto Adige, the Veneto, and Friuli-Venezia Giulia. Originally used in poor districts as an anesthetic, disinfectant, or antidepressant, it was reinvented as a sophisticated after-dinner drink in the late 1980s. Today, its rustic earthiness has been replaced by soft grapey flavors, and it is likely to be bottled in Venetian Murano glass. The best producers include: Jacopo Poli (0424 524426), Nonino (www.nonino.it), Distilleria Aquileia (www.distilleriaaquileia.com), and Segnana (www.ferrarispumanti.it).