Pesach - Haroset
[Do Not Use]DK Publishing
02-07-2014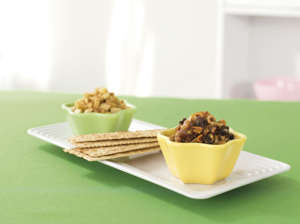 You can add strips of orange peel to your haroset, for more flavor.
Haroset

Much of the seder is about the bitterness and sorrow of life in Egypt under Pharaoh. While haroset (pronounced ha-ROH-set) looks like the mortar that the Israelites used to build Egyptian cities, it tastes sweet to celebrate being freed from Egypt. Here are two different ways to prepare it: Ashkenazic (which is not cooked) and Sephardic (which is).
"Every Jewish community around the world has its own tradition of how to make haroset. Some are sweet, others are more tart or even spicy." –Rabbi Ozur Bass
Ashkenazic
Sephardic
Both of these recipes are pareve, and can be served with meat, dairy, or other pareve foods.