Smoking - Instant Smoking in a Wok
DK Publishing
02-07-2014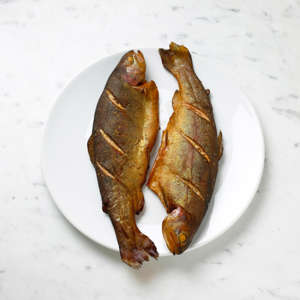 Instant hot-smoked trout - If you are eating the smoked fish immediately, serve it with salad and a fresh tomato salsa. Otherwise leave to cool, transfer to a plate, cover, and store in the fridge.
A wok with a lid makes a great instant smoker. It must be well sealed to keep smoke from escaping and used over low heat. Fish and shellfish are perfect for instant smoking. Serve hot or cold with salad and horseradish sauce.
Hot smoking wok tips
The wok needs to be well sealed to prevent too much smoke escaping (a foil collar pressed around the edge of the lid usually prevents this).
The wok is best used over low heat on the stove, or outside on a grill. Keep separate woks for smoking.
A wok with a clear lid enables you to see the food cooking so that you can control the cooking and smoke levels more accurately: keep the lid firmly closed during cooking and turn the heat slightly up or down to control the amount of smoke.