Sugar and Spice - Nuts and Seeds
[Do Not Use]DK Publishing
02-07-2014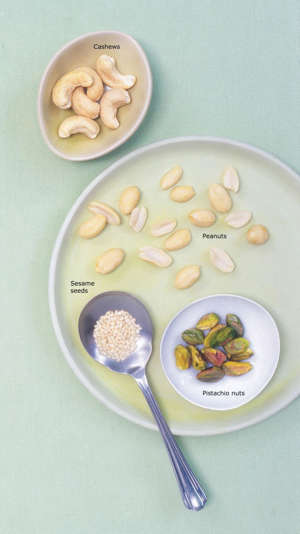 Nuts and Seeds

Asian cuisine abounds with dishes featuring nuts and seeds. Nuts have a large percentage of oil and are also high in protein, so they are very important in the Asian diet. Ground nuts and sesame seeds are used in condiments, sauces, soups, salads, and sambals not only for the texture and body that they provide, but also for their nutritional value.
"Ground nuts and sesame seeds are used in condiments, sauces, soups, salads, and sambals not only for the texture and body that they provide, but also for their nutritional value."
Sesame seeds
Sesame seeds (Sesamum indicum) are available in both white and black varieties. In cultivation since 3000 BC, they originated in India and soon traveled to Assyria in Central Asia, as well as to East Africa, and have been used in China for at least 2,000 years. Sesame seeds are used widely in Middle Eastern, Southeast Asian, and Chinese kitchens. They are crushed in pastes and made into oils, as well as eaten raw and toasted. In North and Western China, a sesame paste similar to the Middle Eastern tahini is made with toasted seeds.
Sesame oil can vary from pale golden to dark rich brown, depending on whether the sesame seeds are toasted or the oils blended. The blended toasted oil gives an aromatic quality to marinades and dressings, but should be used sparingly so that it does not overpower the food.
An introduced favourite
The cashew is actually the fruit of a small tree, Anacardium occidentale, which is a member of the Anacardiaceae family, along with the mango, pistachio, poison ivy, and poison oak. Cashews are native to northeastern Brazil. The Portuguese introduced cashews to the west coast of India and East Africa in the 16th century, shortly after they first found it in 1578. After the cashew's planting in India, more-refined methods for removing the caustic shell oil were developed by this country, and India is given credit for developing the modern nut industry. Cashews are now a high-yielding cash crop grown in many countries. Vietnam grows 28 per cent of the world's crop, and India still grows 25 per cent. On India's west and south coasts, cashews are used in pilafs, curries, and desserts, as well as chutneys. Ground cashews are used to thicken and enrich curries traditionally served at weddings, banquets, and other sumptuous occasions. Cashews are also used in Chinese and Malaysian cooking, but are usually left whole.
More than a snack food
Although peanuts (Arachis hypogaea) are considered to be nuts culinary-wise, botanically they belong to the legume family Fabaceae, which includes lentils, soybeans, and peas. Peanuts originated in South America; archaeological evidence shows that they were cultivated as far back as prehistoric times, and they have been found in Peruvian tombs dating back to 1500 BC. The Portuguese transported peanuts first to Africa, then to the Malay archipelago, from where they quickly spread throughout Asia. In Asia, peanuts are much more than a snack food. They are nutritious and contain valuable vitamin E, niacin, folacin, calcium, phosphorus, magnesium, zinc, iron, riboflavin, thiamine, and potassium.
Pistachio nuts
Pistacia vera are native to Western Asia and Asia Minor, from Syria to the Caucasus and Afghanistan. Archaeological evidence in Turkey indicates the nuts were being used for food as early as 7,000 BC. Pistachio nuts cannot tolerate excessive dampness and humidity, so, although they are used extensively in Western Asia, and parts of Central Asia, Pakistan, and India, they are not used at all in Eastern and Southeast Asia. Pistachios are prized for their ornamental color and flavor. They are used both raw and roasted, and can be salted or used in desserts such as baklava and similar pastries common throughout the Middle East, Western Asia, and what was once Persia. The bright green color bewitches the eye, creating jeweled dishes the like of which has been used to impress royalty for millennia.