Vegetables - Vegetable Essentials
[Do Not Use]DK Publishing
02-07-2014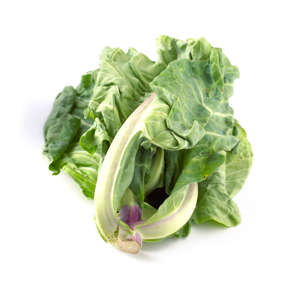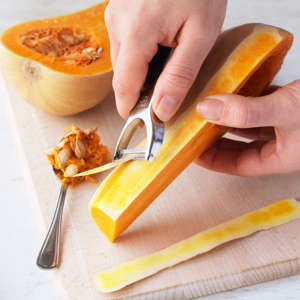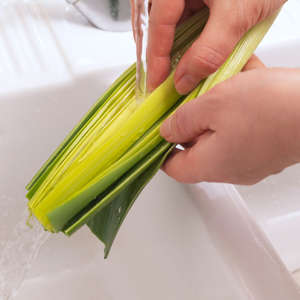 Cut vegetables into strips of equal width and thickness, then cut them into dice the same length as the width and thickness.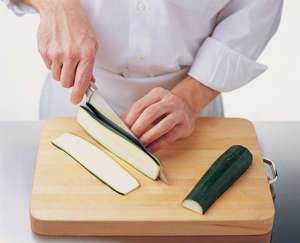 Blanch or cook vegetables before freezing them on covered trays, well spaced out. Once frozen, divide them into meal-sized portions and return to the freezer in freezer bags or other containers.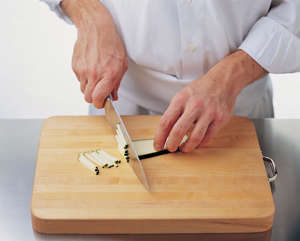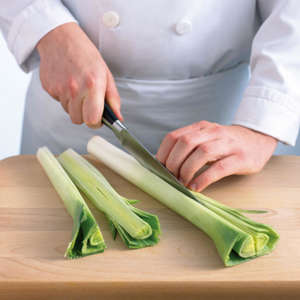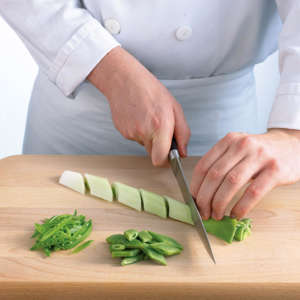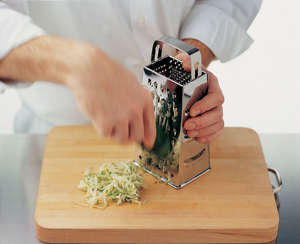 Squash has a particularly tough skin that needs removing before the flesh is sliced into chunks. Use a vegetable peeler to do this.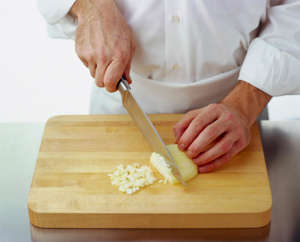 Select green leafy vegetables that have crisp, fresh-looking, green leaves, with no yellow coloring, and firm mid-ribs.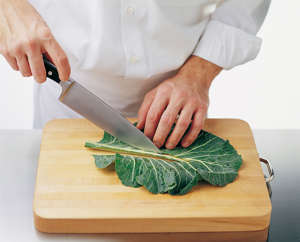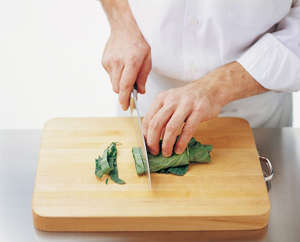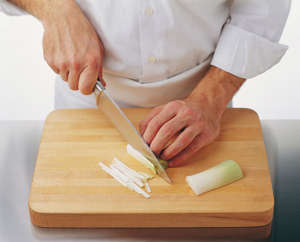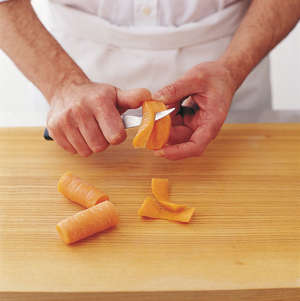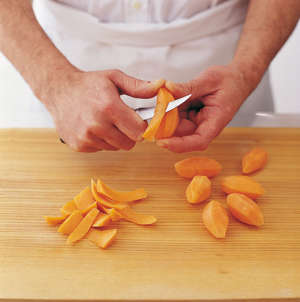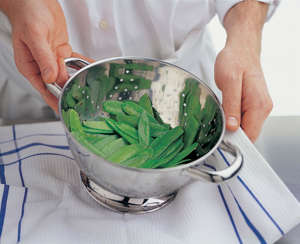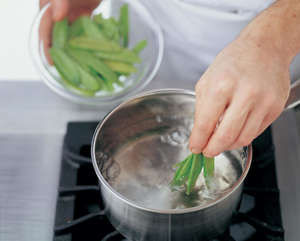 Making juliennes is similar to cutting batonnets, but slices should be 1/8in (3mm) thick, then cut into strips 1/8in (3mm) wide.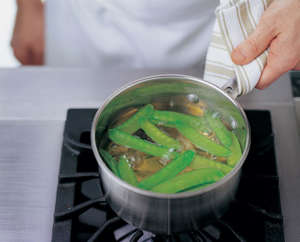 Rub the vegetable down the length of a grater, choosing the hole size that gives you the size you prefer, or shred in a food processor.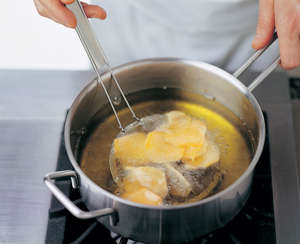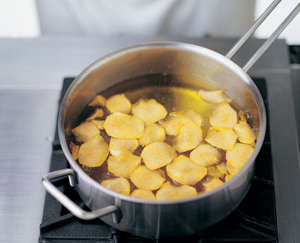 Leeks collect soil between the layers, so it is important to wash the inside thoroughly before use. Shake off any excess water.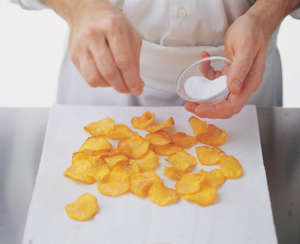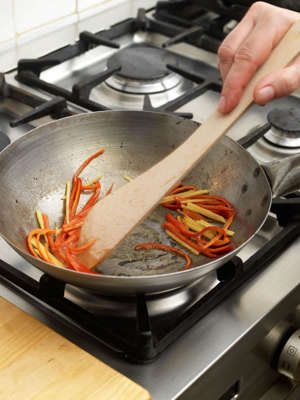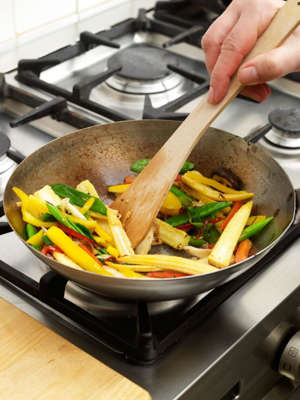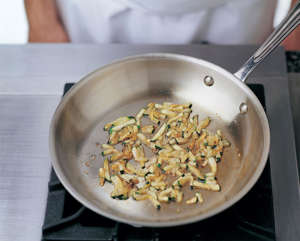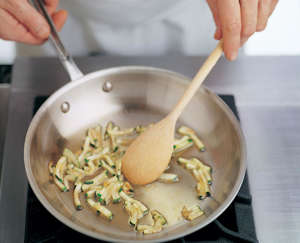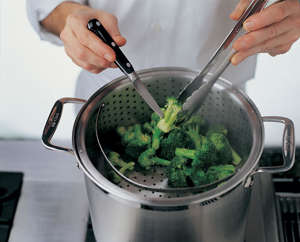 Roasting in a pan with a little vegetable oil in the bottom improves the flavor of diced root vegetables and winter squashes, among other vegetables. You can add extra flavor by tossing in some fresh herbs.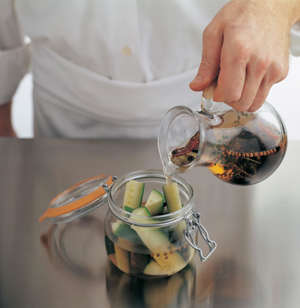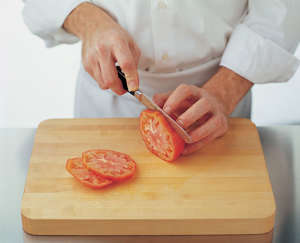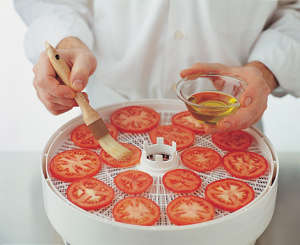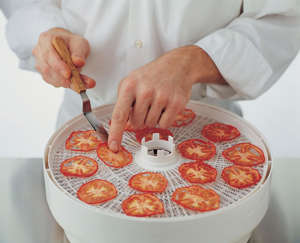 Vegetable Essentials

Vegetables are the foundation of a healthy diet, and they are at their freshest, tastiest, and most nutritious when they are in season and locally grown by sustainable methods. In season, vegetables reach their flavor peak. That's also when they are most abundant and most economical. Local farmers are likely to grow the most flavorful varieties, including heritage varieties that have been selected by generations of farmers and gardeners for their superior qualities. Local growers often use organic or sustainable methods too, choosing to protect the environment and preserve the soil's natural fertility without the use of agricultural chemicals.
BuyGood color
Buy vegetables that have bright, vibrant colors with no yellowing—especially in cauliflowers and leafy greens. There should be no bruising, discoloration, blemishes, soft spots, cuts, or pits, and no suggestion of mold growth.
Firmness
The vegetable should feel firm and heavy in the hand; lighter vegetables may be drying out.
Tight skin
Loose skin indicates that the vegetable is drying out, so look for taut, firm skin.
Fresh ends
To ensure freshness and the quality it implies, check the cut ends of vegetables that have been harvested from a root or mother plant. The cut should look fresh and moist, not dried out. Leaves should be glossy and mid-ribs stiff.
Smell
The vegetable should have a clean, fresh fragrance.
Store
Different vegetables store for varying lengths of time, depending on their type. Delicate leafy vegetables store best wrapped loosely in a moist paper towel inside a closed plastic bag or refrigerator storage container. Root vegetables, such as carrots and parsnips, keep well in an open plastic bag in the crisper of the refrigerator. Vegetables, such as bell peppers and cabbage, store well in paper bags rolled shut and placed in the crisper. Some vegetables store best at room temperature in the dark, such as potatoes; while others, such as onions, need a basket to contain them. Tomatoes will continue to ripen when placed on a windowsill. All vegetables begin to lose freshness as soon as they are harvested, but this happens more or less rapidly depending on their type. If you can only use part of a vegetable, store the remainder sealed snugly in plastic wrap in the refrigerator.
Prepare
Some vegetables need to be peeled to remove the skin, because it is tough, tastes bitter, may contain traces of pesticides, or purely for personal preference. With other vegetables, it is often sufficient to wash them well. Delay washing and peeling until just before use, since exposure to air and moisture will cause the vegetables to deteriorate and lose their vitamins.
Peel
Vegetable peels range from tough to tender, and they often contain more nutrients and flavor compounds than the flesh inside. To preserve flavor and conserve nutrients, cook vegetables with the skin on. If you need to peel the vegetable, remove the skin after the food has cooled. One of the chief reasons people peel their vegetables is to remove impurities or agricultural chemical residues.
Wash
Wash most vegetables with lukewarm tap water and a soft-bristled brush. Where brushing isn't appropriate, swish vegetables in a pan of water. Some markets sell food-safe cleansers to remove oil-based pesticides, waxy preservatives, and oil from the hands of employees and customers who have handled the vegetables.
Cutting
Vegetables are not produced in a uniform shape, so cutting them up is not the same for every variety either. The size and shape of cut pieces depends on how you are going to use the vegetables in recipes—whether as chunks, as elegant side dishes, or as a garnish.
Cut batonnets
Cut vegetables into 1/4in (5mm) thick slices, then cut into 1/4in (5mm) wide strips.
Cut across the width of the strips to make batonnets 11/2–2in (4–5cm) long.
Cut diamonds
Slice the vegetable in half down the length and lay each piece flat side down on the board.
Start at the white root and cut diagonally along the length into diamond-shaped pieces.
Slice greens
Using a sharp chef's knife, cut out the tough mid-rib by slicing along the length on each side.
Roll up the leaves into a sausage shape and slice across the roll to make even strips.
Slice with a mandolin
Mandolins will produce very thin slices or batons. Use one with adjustable blades to cut at any thickness. The blades are very sharp.
Turn carrots
Use a turning knife to start shaving off the sides of 2in (5cm) pieces of carrot.
Continue to turn the carrot in your hands while cutting, to create a seven-sided football.
Cook
Some vegetables can be eaten raw, but many need to be cooked to break down the starch and cellulose they contain, thereby making them digestible. Any form of cooking—boiling, grilling, frying, steaming—will achieve this, but texture and nutrients are best preserved if the cooking is as brief as possible.
Boil
Do not boil vegetables for too long, to avoid color and nutrients leaching into the cooking water. Generally, starchy vegetables should be started in cold water, green ones should be added to boiling water.
While the pan of water is heating, rinse the vegetables to be boiled in a colander. Shake off any excess water.
When the water is boiling, add the vegetables in small handfuls, bring the water back to the boil, then simmer until cooked.
Once cooked to the desired doneness, drain the vegetables and rinse them under cold running water to stop the cooking process.
Deep fry
This is a great way to cook wafer-thin slices of vegetables, such as potatoes, carrots, and beets. More delicate vegetables may cook better when coated in a tempura batter to protect them from the hot fat. If the ingredients are cooked very quickly, they will absorb the minimum amount of fat.
Heat the oil until a small vegetable piece dropped into it sizzles, then add the vegetables.
Cook until the desired doneness is reached—the vegetables should be crisp and golden-brown.
Remove from the pan with a slotted spoon, drain on paper towels, and sprinkle with salt.
Grill
A delicious and healthy way to eat vegetables. Most are suitable for grilling, but some, such as carrots and potato, may need to be parboiled first.
Heat a griddle or a barbecue grill to a high heat for 15–20 minutes, scrub it with a wire brush, then brush with vegetable oil. Reduce the heat to the desired level then add the vegetables, brushed with a little oil on each side. Grill for 4–5 minutes, turning them over halfway through. They should be crisp but just tender when done.
Stir-fry
A delicious and healthy way to get the best out of ingredients, the secret to successful stir-frying is speed. Cooking fast at a high heat ensures that the texture, flavor, and nutrients of food are preserved, and that minimum oil is needed to cook them.
Heat a tablespoon or two of vegetable oil in a wok or stir-fry pan until the oil is hot but not smoking. Add the vegetables that take longest to cook first, then keep adding the others.
Stir the vegetables often, moving them up the sides of the pan to reduce their exposure to the heat. When all the vegetables are added, stir constantly until all are lightly cooked.
Sauté
Another quick method of cooking in which vegetables are fried in a small amount of oil in a large frying pan. The fat should be at a high heat as you add the vegetables, which should be moved around continually during cooking. For best results, do not crowd the pan.
Set the pan over a high heat and add some vegetable oil or butter. Once the fat is heated, toss in the vegetables.
Cook the vegetables in batches, if necessary, and stir them around the pan often. Sauté until the vegetables are browned and tender.
Steam
This is one of the healthiest methods of cooking vegetables. Since the ingredients do not touch the water in the pan, there is no loss of nutrients and the vegetables retain more of their flavor and texture.
Place 1in (2.5cm) of water and a steaming basket in a large pot with a lid. Add the vegetables, cover, and turn the heat to high.
Allow the vegetables to steam to the desired doneness—test them with the sharp point of a knife. Be careful not to overcook them.
Roast
Roasting vegetables allows them to retain all their delicious flavors and to take on a new texture. This method uses the dry heat of the oven and gives the vegetables a delicious golden-brown exterior.
Preserve
Vegetables taste much better when they are in season, so it is worth preserving them and their flavors for the months when they are not available fresh. Some vegetables are best dried, others pickled, and many can be frozen. Preserve vegetables only at the peak of freshness.
Pickle
As well as a method of preservation, pickling is popularly used to add a sweet–sour tang to vegetables. It is important when pickling to use clean, sterilized jars. Most soft vegetables can be pickled raw, but hard roots need to be cooked to soften them. Place vegetables in a jar with a tight-fitting lid and fill the jar with a vinegar-based pickling solution.
Dry
This method involves drying vegetables, such as tomatoes, mushrooms, and squash, as well as some fruits to help retain their nutrients and intensify their flavors. To do this you need a dehydrator, which will keep the vegetables at the recommended temperature of below 118°F (48°C).
Slice the prepared vegetables to the desired thickness. Thinner slices dry faster.
Arrange the slices on the drying tray, allowing no overlap. Brush lightly with olive oil.
The slices are ready when they are crisp, not flexible. Cool, then store in airtight containers.
Freeze
Hard vegetables, such as carrots, beans, broccoli, peas, and corn, can all be frozen. Freeze cut and prepared vegetables on the day of purchase to retain all their flavors, textures, and nutrients.