Herbs - Introducing Herbs
DK Publishing
2/7/2014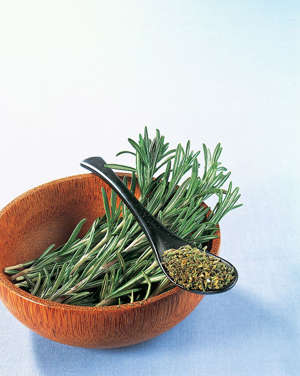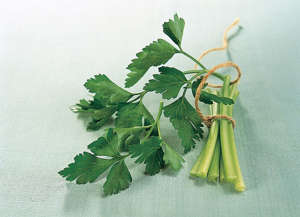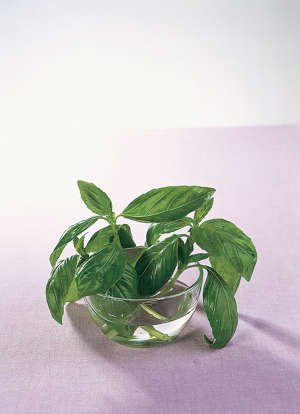 Chopping herbs - Chop herbs just before they are needed – freshly chopped herbs have the best aroma and flavor.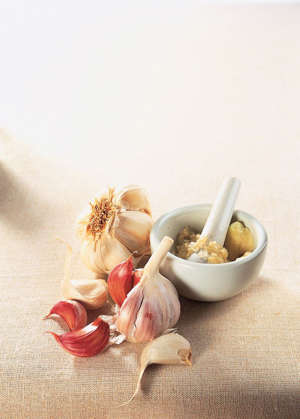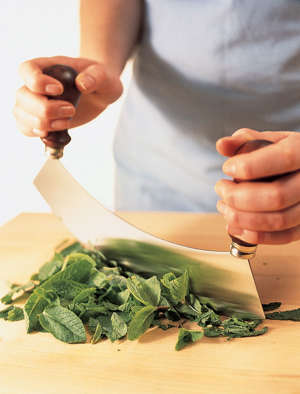 Pounding leaves - Herbs intended for sauces or pastes can be pounded in a mortar. Other ingredients may be worked into the crushed herbs.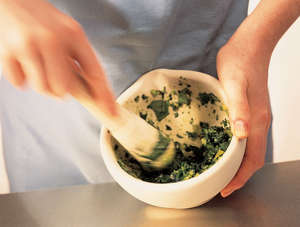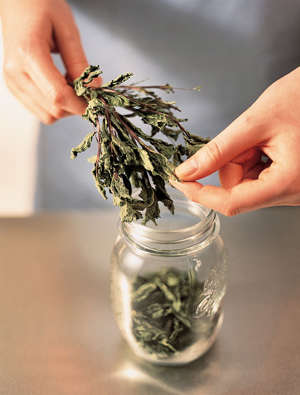 Drying herbs - Some herbs can be dried at home and their leaves stripped and kept in an airtight jar.
Introducing Herbs

While robust herbs such as sage do not lose their flavors if dried, most herbs are meant to be eaten fresh. Herbs added at the beginning of cooking impart their flavor to foods; adding the herbs at the end ensures that their aroma is retained. In this directory, more than 60 herbs and their varieties are grouped by aroma and taste, with details of the parts used, buying and storing, growing your own, and culinary uses worldwide.
While compiling the herb directory in this guide I became conscious of the impact of world trade expansion on the sale of fresh herbs. It has long been accepted that spices, and to a lesser extent dried herbs, can travel great distances without damage, and in recent years air freight has also made it possible to import fresh spices, such as ginger, lemon grass, chili peppers, and zedoary (white turmeric). But herbs were always considered too fragile for long transportation; when I last wrote about herbs some five or six years ago it was almost impossible to find some Asian basils, or Japanese herbs such as perilla or mitsuba. Some of the herbs recorded here I had not seen or tasted then, some I was not even aware of. With fewer herbs readily available, I would bring back plants from my travels, willing them to grow in my London garden. Luckily most of them did, and several survived for more than one season.
New markets for fresh herbs
Today international trade brings herbs grown in Turkey, Cyprus, and Israel to my supermarket shelves as a matter of course. Deliveries from Japan, Thailand, and Singapore bring little-known tropical herbs at least once a week to specialty stores. At present, demand probably comes largely from immigrant communities and from restaurants, but my own visits to such markets revealed a great curiosity and a willingness to experiment on the part of other local enthusiasts. With these people in mind I have included a number of recent arrivals. In the US, and in other countries with sufficiently warm climates, many herbs are already being cultivated to meet demand not just from immigrants but also, increasingly, from a wider public. Perhaps in a few years my markets, too, will sell bunches of fresh culantro, rau ram, and epazote alongside familiar Western varieties.
The Western tradition
Many herbs remain essential in classic European cuisines: tarragon, thyme, bay, and garlic in France; basil, sage, and rosemary in Italy; oregano in Greece; dill in Scandinavia; parsley, sage, thyme, and bay in Britain. The traditional uses of these herbs are still reflected in the choices made by today's cooks, but the foods with which they are used and their flavor combinations are changing as other possibilities, afforded as much by our own curiosity as by increased availability, are explored. If you are a novice in cooking with herbs, start with classics such as chicken with tarragon, guacamole with cilantro and chili, grilled cod or tuna with salsa verde, roast potatoes with rosemary and garlic, or a beef stew with a bouquet garni and red wine. Once you begin to appreciate how the blending of flavors affects a dish, you will be drawn to experiment and adapt or devise combinations to your own taste.
We are rediscovering many herbs that once were in common use but have long been forgotten or neglected as weeds. In 17th-century Europe, salad herbs were grown and used widely. In 1699, John Evelyn's Acetaria recorded more than 30 salad herbs, including arugula, basil, balm, chicory, corn salad, clary sage, various cresses, dandelion, fennel, hyssop, mallow, mint, orach, purslane, and sorrel. In 1731, Philip Miller's Gardener's Dictionary instructed gentlemen gardeners in herb cultivation. Some have become easily available once more, in season and even all year round, but others – such as sweet cicely, clary sage, and hyssop – you will have to grow yourself. Specialist nurseries are constantly extending their stocks to meet the demand for a wider range of herbs. But there is also a trend to overuse certain herbs – arugula and chervil are currently the worst affected – which I hope will not lead to their disappearance once the fashion changes.
Choosing and using herbs
Generally, herbs are used to add fragrance and flavor rather than to provide the dominant taste. The light flavors of dill, parsley, and chervil are good with fish and seafood; the more pungent rosemary, oregano, and garlic will flavor braised or baked lamb or roast pork beautifully. Root vegetables respond well to thyme and rosemary, eggplant to Provençal herbs, green peas to chives, tomatoes to basil and parsley. It is important always to balance delicate and hearty flavors, and to use herbs judiciously.
The wealth of fresh herbs now available has had the beneficial effect of banishing from many kitchens a lot of small packets of stale dried herbs. Some herbs that are sold dried, such as basil and parsley, are never worth having; their aroma is musty at best, and their taste insipid. Such herbs are meant to be eaten fresh. The clean, herbaceous notes of fresh parsley, and the complex, sweet scent of anise and clove wafting from a bunch of basil, beguile first the sense of smell and later also the tastebuds. Unlike many herbs, these two are not overwhelming if used in large quantities – as they are in the basil sauce pesto and the parsley salad tabbouleh. Robust herbs, such as oregano, thyme, sage, savory, mint, and rosemary, respond well to drying, which preserves and often concentrates their flavor. Whether fresh or dried, these herbs should be used sparingly or they will overwhelm other flavors in the food instead of complementing them.
Herbs added early on in cooking will release their flavors into the dish. Dried herbs should always be put in at the beginning, and herbs with tough leaves, such as rosemary, lavender, winter savory, thyme, and bay, will withstand long cooking. If you add sprigs of herbs to a dish, remove them before serving. To restore the aroma of herbs used in a slow-cooked dish, stir a few finely chopped leaves into the pan toward the end of the cooking process. Strongly flavored herbs, such as mint, tarragon, fennel, marjoram, and lovage, can be added at any stage during cooking. The essential oils of delicate herbs, like basil, chervil, chives, dill, cilantro, perilla, and lemon balm, soon dissipate when heated. To keep them fresh in taste, texture, and color, add them just before a dish is served.