Mineral Directory - Selenium
[Do Not Use]DK Publishing
2/7/2014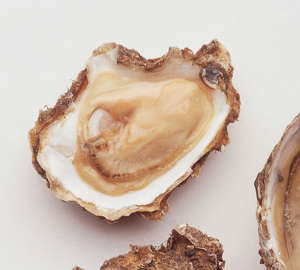 Oysters - Shellfish such as oysters are a useful source of selenium and various other nutrients, including vitamins niacin (B3), B12, and the minerals potassium and zinc.
Selenium

Daily requirement
men: 0.055mg per day
women: 0.055mg per day

This micromineral is an antioxidant and part of an enzyme that protects cells from the damaging effects of free radicals , which can lead to cardiovascular disease. Selenium (Se) is vital for the normal functioning of the immune system and the thyroid gland. It is found naturally in fish, shellfish, poultry, and Brazil nuts.
Selenium is also thought to have anticancer properties, possibly from its antioxidant function, as well as from its ability to block the action of many enzymes that are involved in cell division and growth—which occur uncontrollably in cancer.
Selenium deficiency
A deficiency of selenium is rare. However, it has been seen in people who rely on intravenous nutrition, in people with intestinal problems that affect the body's ability to absorb nutrients, in severely malnourished infants and children, and in those with rheumatoid arthritis. A sign of selenium deficiency is an enlarged heart that is not able to pump blood efficiently.
Good sourcesSelenium
This is found naturally in all the foods listed below, which contain at least 10mg of the mineral per 1oz (28g):
Brown rice
Wheat germ
Whole-wheat bread
Poultry
Fish, especially tuna
Shellfish, especially oysters
Brazil nuts