Water-dwellers - Flavor Footprint - Southeast Asia
DK Publishing
2/7/2014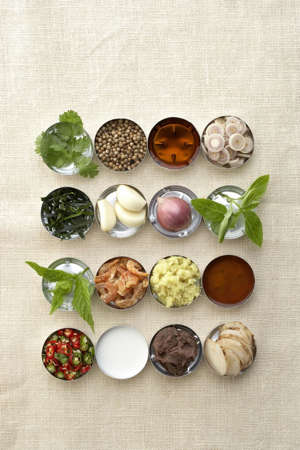 Signature ingredients - Top row (left to right): cilantro, coriander seeds, fish sauce, lemongrass; second row: lime leaves, garlic, red shallots, Thai basil; third row: mint, dried shrimp, ginger, tamarind; bottom row: chiles, coconut milk, shrimp paste, galangal.
Flavor Footprint - Southeast Asia
Over the past couple of decades, the cuisines of Southeast Asia have truly come into their own on the international culinary stage. Perhaps their most salient characteristic is a tendency to combine hot, sour, sweet, and salty all in the same dish, so that each mouthful is a kaleidoscope of flavors. Often this riot of tastes is deepened and united by the judicious use of fermented seafood products, of which fish sauce (stocked by most large supermarkets) is perhaps the most amenable to Western taste buds; if you want to experiment with others, check out your local Southeast Asian grocery. We love the explosive nature of Southeast Asian flavors, and after you try out a couple of these easy condiments, we think you will, too.