2017 Alfa Romeo Giulia Adds Italian Flair to Sport Sedans

Consumer Reports
11/04/2017

Time flies. It's been more than a quarter of a century since CR tested an Alfa Romeo. That last model was the 1988 Milano, evaluated seven years before the brand ceased U.S. sales.
Now that this famed Italian automaker is back selling in America, we will test the new Giulia, a rear-drive four-door sports sedan aimed squarely at the Audi A4, BMW 3 Series, and their peers.
Until we purchase our own, we rented a Giulia to whet our appetite. Besides the gorgeous styling, we found the new Giulia to be a quick, sharp-handling machine with an invigorating sound, all of which make it fun to drive.
It also has its fair share of quirks. It's Italian all right, for better or worse.
Alfa Romeo has been part of the Fiat conglomerate for years and Fiat has been the boss at Chrysler since 2009. That corporate arrangement has created, among other things, the necessary bridgehead for Alfa to return to North America. The early bird was the 4C sports car, and, in order to penetrate into a less esoteric arena, Alfa is now launching a two-pronged attack into the heart of the luxury/sports market with the Giulia sedan, and by mid 2017 it adds the Stelvio SUV.
The Giulia moniker harkens back to the 1960s. Likewise, the car itself marks an attempt to recall Alfa's glory days by designing the Giulia with a clean slate as a legitimate, rear-wheel-drive sports sedan with not just a sexy badge but actual substance.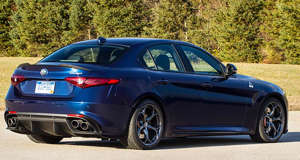 The Giulia will be available with rear or all-wheel drive. Most versions will have a 280 hp, 2.0-liter turbo four-cylinder engine and be priced between the low $40,000s to the low $50,000. A high-performance version, called Quadrifoglio, gets a 505-hp, 2.9-liter V6 turbo aimed at BMW's famed M brand and Mercedes's AMG tuning branch.
By the way, the Quadrifoglio—a green four-leaf clover—has been adorning racing Alfas for decades, commemorating the good luck symbol that first adorned a racing-winning Alfa Romeo RL Targa Florio in 1923.
At first, the QF doesn't feel like it's a 500-plus-hp machine. Acceleration and initial throttle response is more docile than explosive, making the car feel approachable and unintimidating.
But tromp on the throttle in Dynamic mode and the power erupts with Vesuvian-like force. Approaching 4,000 rpm, a rich, resonant roar sets in that soars into a smile-inducing, heart-warming reverberating climax.
Alfa claims 3.8 seconds to shoot from 0-60 mph, thanks to a lightweight, carbon-fiber and aluminum-rich body and that prodigious power output. That's nice, but it's about how you get there, not how fast you get there.
All U.S.-bound Giulias come with an eight-speed automatic. Alfa's mode selector includes four distinct personalities, starting with Advanced efficiency, Natural, Dynamic, and Race. Dynamic and Race add serious spice by altering shift points, throttle response, exhaust sound, and suspension and steering firmness.
While the big, easy-to-access paddles by the steering wheel allow driver intervention with manual overrides, that almost seems superfluous since the transmission is so well attuned to the driver's needs, including timely downshifts when braking for a corner.
Handling is scalpel-sharp, with lightning-quick steering and a taut, tied-down suspension. The car turns in with immediacy and an even-keel cornering attitude that wouldn't shame hardcore sports cars.
Rather than being artificially heavy, the steering conveys good feedback. On our track, the Alfa further proved its mettle with fantastic grip from the Pirelli P Zero Corsa tires, delivering a beautifully balanced easy-to-control demeanor.
Brakes are courtesy of world-renown Italian outfit Brembo. Unfortunately, the pedal's initial travel is rather dead and then it becomes too grabby, which makes it hard to achieve smooth stops particularly at low speeds.
Alfa says that this is easy to rectify, and production cars might benefit from improved brake feel. We'll find out in due course.
Ride comfort is very firm due to the taut suspension and low-profile tires, but it's not unduly punishing. Despite a modicum of isolation, there's no escaping some of the built-in agitation.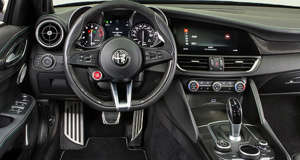 We also had a chance to briefly drive a Giulia Ti with the base turbo engine. Even that version pulls with a healthy thrust and a mildly sonorous streak. Handling is still nimble and engaging, making it one of the sportiest in this category. The Ti is much more civilized in terms of ride comfort and noise isolation.
Inside, the bolstered Alcantara seats hold you in place, providing support and some give. Colorful double stitching adds to the sporty ambience, as do carbon-fiber surfaces and a flat-bottomed steering wheel—complete with a red "start" button.
The infotainment system takes a page from the BMW iDrive with a center controller interfacing with a screen for audio, phone, navigation, and other vitals. It's a manageable system but not as flexible and seamless as what's found in BMWs and Audis.
Fit and finish is rather inconsistent, with some attractively textured materials offset by some sharp edges. The unfinished feel of the grab handles above the doors, for instance, is unbefitting. You wouldn't see such an oversight in a Volkswagen Golf.
As is common in this genre, the rear seat isn't particularly generous, but it is sufficiently raised and well-shaped for decent posture.
Advanced safety gear is optional and is limited to blind-spot detection, and lane-departure and forward-collision warning. More advanced active safety equipment, such as autonomous braking, is coming at a later date, we're told.
Seductive styling and engaging driving experience make the Giulia rich with character. But it concedes refinement to its German competitors, and reliability is unknown. For a more complete measure of how the Giulia compares to its premium rivals, check back with us in early 2017 when we buy and test our own Giulia.  
Since this article originally published, we purchased our own Giulia. Below are our first impressions, witha full road test expected to be posted in late spring.
Consumer Reports has no relationship with any advertisers on this website. Copyright © 2006-2017 Consumer Reports, Inc.