Ae Dil Hai Mushkil title song: 5 times Karan Johar taught Bollywood how to shoot songs

India Today
07/09/2016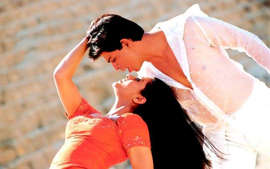 Karan Johar is not your typical Bollywood director. In fact he might just be the best version of a 'Bollywood' director. He doesn't know how to hold back on the melodrama in his films, a thumping background score, dramatic windy sets raise the stakes of any emotional scene. He tends to overdo a 'pretty movie' more of than not. Not to say, a good or a bad thing.
And in the title track of his latest movie Ae Dil Hai Mushkil, he's shot the song with a mid-closeup on Ranbir's face, lip syncing to the song, and it looks so intense. Karan Johar IS an expert in shooting songs and at staging dramatic introductions for his heroes and heroines. Fifty back-up dancers for his main characters, large settings in palaces, pubs, middle of NYC, KJo will stop at nothing to capture the most beautiful way to shoot a song.
Here are 5 such songs, where Karan Johar taught Bollywood how to shoot a song:
1. Kuch Kuch Hota Hai (Kuch Kuch Hota Hai)
Even in Karan Johar's debut, the director set the standard for the Bollywood love song by shooting this song in Scotland, with Shah Rukh in those yellow, blue hoodie jackets, which became really popular after the film's release. The lush green fields of Scotland, added an ethereality to the song.
2. Suraj Hua Maddham (Kabhi Khushi Kabhi Gham)

The Great Pyramid of Giza. What a location to shoot a love song. The desert made the lady in a saree trope from Bollywood look like something else. Yash Chopra, who first began the trend of making his leading ladies wear chiffon sarees and sing in the Alps. And Johar out-did him by making kajol do the same in the middle of Egypt's desert.
3. Tumhi Dekho Na (Kabhi Alvida Naa Kehna)

Karan Johar took his love song to a different level, as he colour co-ordinated this entire song sequence, as Shah Rukh's character professes his love for Rani Mukherji's character. The song shot in the middle of NYC, sees the lead pair lip-sync to songs at the same time pray in churches and dance in the middle of Times Square. Because, why not.
4. Noor e Khuda (My Name is Khan)
This song from My Name is Khan, charts the journey of Khan through the deserts of Nevada with his rucksack, as he repairs things and pays for his journey to Washington DC, where he has to meet the American president to tell him that 'His name is Khan, and he is not a terrorist.' This was Johar's most political film, even though one of the main arcs of the movie follows Khan's love story with Mandira (Kajol).
5. Ishq wala love (Student of the Year)
The typical Johar love song in his youngest film yet, the director blows his tropes out of proportion as we see a teenage Alia Bhatt wear a chiffon saree in the middle of snow-capped peaks. All three Varun Dhawan, Sidharth Malhotra and Alia Bhatt lip-sync to this song with minimalistic arrangement.
In his latest offering, Karan Johar has a very minimalist approach, as we just see the song play to several happy and sad sequences for his characters ranging from Ranbir Kapoor (who plays a musician), Anushka Sharma and Aishwarya Rai Bachchan. There are glimpses of Fawad Khan here and there, making it a pretty song even if it doesn't have the actors dancing to perfectly choreographed steps with fifty backup dancers. The Karan Johar song sequence has really evolved. Watch:
Recommended: 50 romantic movies you should watch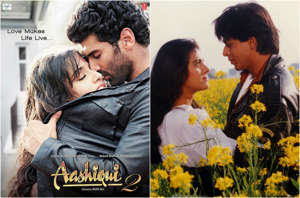 More from India Today

India Today