Amitabh Bachchan and controversies: When celebs attacked the superstar

Hindustan Times
22/09/2016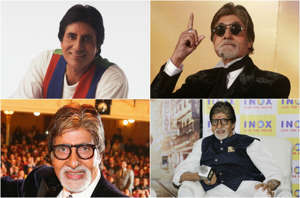 Fans and critics are going gaga over his performance in the latest flick Pink but former Supreme Court judge Markandey Katju feels Amitabh Bachchan does not "have anything in his head". He recently wrote on his Facebook wall, "Amitabh Bachchan is a man with nothing in his head, and since most mediapersons praise him, I doubt there is anything in their heads too."
The 73-year-old actor has responded to the comment saying, "He (Katju) is right I don't have anything inside my mind."
This is not the first time that Bachchan is facing criticism from a well-known face. From allegations of being greedy to even sexual harassment, he has seen it all. Here, we take a look at some of the most controversial accusations he has faced.
1. Former Miss India World Sayali Bhagat accused Amitabh Bachchan, Shiney Ahuja and Sajid Khan of sexual harassment in 2011. After Big B filed a police complaint, Sayali claimed she was a victim of cyber crime and alleged that a fake statement was issued in her name. "I have exchanged mails with him (Amitabh), and he understands that some third party is involved. He took it to the police from his side as well. He has filed another complaint. I even spoke to some other actors, and they all understand that I have been victimised," she said.
2. Veteran actor-writer Kader Khan revealed in a 2010 television interview that Amitabh Bachchan was high on power after he became a Member of the Parliament (MP) and had even told the him, "If these people want to bring you in politics and if you ever decide to contest elections, I will ensure you lose it. I will discourage people from voting for you."
3. Shatrughan Sinha, who worked with Amitabh in films like Dostana and Kala Pathar, had alleged that Amitabh felt insecure in his presence. This was revealed in his biography Anything But Khamosh: The Shatrughan Sinha Biography by Bharathi S Pradhan. An excerpt: 

"People say that Amitabh and I made a dynamic pair on screen but if he did not wish to work with me, if he felt that in Naseeb, Shaan, Dostana or Kaala Patthar Shatrughan Sinha bhari pad gaya(having Sinha around worked against him), it didn't affect me. There were so many films that I dropped out of and returned the signing amount. There was a film called Patthar Ke Log – one of Prakash Mehra's – written by Salim-Javed...so many films that I gave up without a backward glance because of Amitabh Bachchan."
Shatru had a simplistic explanation for what went wrong between Amitabh Bachchan and him when they had so much going between them. "The problem was the applause I was getting for my performances. Amitabh could see the response I was getting. That's why he didn't want me in some of his films."
4. Politician Amar Singh, once a close friend, had called Amitabh Bachchan "greedy" and claimed that he had helped the actor when he was bankrupt but the latter refused to help him in times of need.