Before Amitabh Bachchan's Pink: A look at Bollywood's most high-profile character actor

India Today
15/09/2016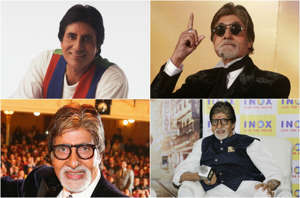 Amitabh Bachchan is a tremendous actor. And so many times, there are so many adjectives used to describe his stardom like Shahanshah, legend, we forget the tiny bit which has made his such an icon - the actor. No amount of stardom, glitz, fan-frenzy can take away from the fact that he is such an amazing actor. At the age of 73, he continues to take on some of the most progressive, ballsy characters. A lot of times, he thanks the writers, directors, who still write and make films keeping him in mind, but the truth is that he has to be a ballsy actor to pull them off convincingly.
An actor on the wrong side of 70, could easily be stereotyped as the Babuji in most of his films. And miraculously somehow, Amitabh Bachchan continues to roll out an astonishing array of characters in film equally interesting. All experiments might not be successful, but it can't be denied that is picking up a more versatile set of characters than anyone in the business.
As he plays a savage-looking lawyer in Shoojit Sircar's Pink and enunciates so clearly as we see in the trailer, let's look at 8 of Big B's characters, which give a glimpse of his impressive resume since 2000:
1. Khakee, 2004
The role of an honest cop has been played many times, but what Amitabh Bachchan brought to the screen were his vulnerabilities and made it about an aging cop. Rajkumar Santoshi is an exemplary writer, hence, his brilliant scenes armed with an in-form Amitabh Bachchan led to this explosive scene.
2. Ek Ajnabee, 2005
Playing a bodyguard/hit-man and following up to Denzel Washington's Man on Fire, Amitabh Bachchan is not only a cool action hero, but a very believable one too. He punches, kicks, slashes, fires with a ferocity, which makes this below-par remake somewhat watchable. The character of Suryaveer Singh could have been played by anyone, but Bachchan's zeal is why the film is somewhat memorable.
3. Cheeni Kum, 2007
This quirky little film established R Balki as an interesting director in Bollywood. Playing a brooding 64-year old chef of an Indian restaurant in London, Amitabh was both charming and funny as he falls for a 34-year old customer (played by Tabu) and wants to convince her 58-year old father to let them get married. Armed with genuine wit, humour and a feel-good factor Amitabh Bachchan was truly amaze.
4. Eklavya: The Royal Guard, 2007
Touted as Amitabh Bachchan's best performance by director Vidhu Vinod Chopra, the film got a lot of audience into the theatres, but it was only Amitabh Bachchan's moving performance that kept them in. Otherwise, a borefest, Eklavya boasts of a searing, slow-burning, passionate performance by Bachchan who moved everyone with his commitment.
5. Nishabd, 2007
A sanitized version of Vladimir Nabokov's Lolita, sees a 60-year old Amitabh Bachchan lust after an 18-year old Jiah Khan. Directed by Ram Gopal Varma, the film came under scrutiny for talking about the taboo romance of an older man with a teenager, however, Amitabh Bachchan was fearless in his performance not pulling any punches to make his character likeable.
6. Paa, 2009
Playing son to his son, Abhishek Bachchan, senior teamed up with director R Balki again for this film which brought the rare genetic condition Progeria to the forefront. Amitabh sat through 10 hours of makeup to look the character, which took 6 hours to put on, and about 4 hours to remove. Bachchan played a 12-year old Auro and became an instant hit among the kids.
7. Shamitabh, 2014
R Balki's third collaboration with Amitabh and Dhanush, and his most ambitious project saw him paying homage to Bachchan's iconic voice. The film sees Dhanush as an impeccable, but mute actor who uses the voice of Amitabh Bachchan and becomes a huge movie star. The conflict begins when the 'voice' wants to be as famous as the face. The film might have fizzled out, but Bachchan commitment to a thinly scripted movie as this was commendable.
8. Piku, 2015
After their first collaboration Shoebite didn't see the light of the day, director Shoojit Sircar cast Amitabh Bachchan in this movie about bowel movement as a 70-year old Bhashkor Banerjee, who can't seem to escape the misery of a constipated tummy. Bachchan makes the cranky old man with a heavy Bengali accent, believable. Being ably supported by Deepika Padukone and Irrfan, the movie was one of 2015's most delightful crowd-pleasers.
More from India Today

India Today