Bigg Boss 10: Case filed against Swami Om, Salman Khan, Colors CEO for obscenity

The Indian Express
20/01/2017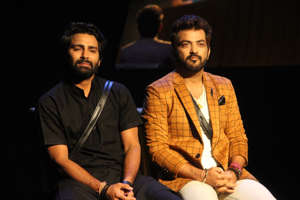 Salman Khan- hosted show Bigg Boss 10 and its ex-contestant Swami Om has made news once again. Now, a case has been filed against the actor, the self-acclaimed godman and CEO of Colors TV Raj Nayak for promoting obscenity and hurting religious sentiments. The case was lodged in the court of chief judicial magistrate of Bareilly on January 18, Wednesday.
According to a report in Hindustan Times, lawyer Anil Dwivedi has said in his complaint that the reality show is promoting obscenity, use of foul language and is responsible for hurting the sentiments of Hindu community. The lawyer has also blamed the actor and the CEO of the channel.
"He (Swami Om) was shown consuming meat while wearing that dress thus demeaning the importance of saints in the Hindu religion," reads the complainant as quoted in the report. The complainant has requested the court to register a criminal case against all three of them. CJM Kusumlata Rathore has set February 13 as the date for hearing of the case.
Bigg Boss season 10 has unapologetically kept itself in the news, and this time for all the bad reasons, all thanks to Swami Om and Priyanka Jagga.
Interestingly, this case has been registered right after Salman was acquitted in Arms Act case by a Jodhpur court.
Swami, on the other hand, has been making news every day by releasing new statements about Bigg Boss show and Salman Khan. His latest comment in an interview reads that he would "break Salman Khan's bones" on the finale of Bigg Boss season 10.
For now, the channel has not issued any statement about this development and Salman was also unavailable to make comment on it.
More from The Indian Express Entertainment
The Indian Express