These 7 Hindi movies that centre around strong women are perfect to watch during the Durga Puja time

Polka Café
19/10/2015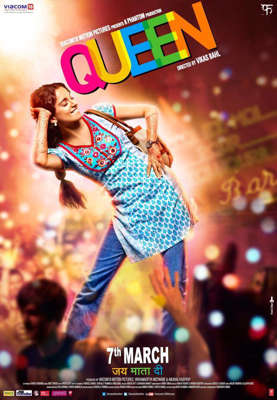 Over the years, Bollywood, through various films, has touched upon many women-related issues. Oppression, subjugation, lack of respect, infidelity, death – everything that we've been struggling to overcome in reality has been portrayed in the virtual world. What has made these movies work is not just this 'real' factor, but the victory of the female characters – over social evils, as well as their individual shortcomings. In a way, films portray the modern Durga, who kills or triumphs over the evils of society, which can be considered as a metaphor for the demon.

Here are some popular and classic women-centric Bollywood films which feature the Durga of today.
1. Mother India
Image credit: Find Memes
Released in 1957 by Mehboob Khan, the film portrays the hardships faced by the protagonist, played by Nargis, as she raises her sons through grave times, going on to become the 'mother' of the village. Her final sacrifice of her son for the greater good of the village and its people is seen as the most defining feature of this mother.

2. Arth

Image credit: Lets Talk About Bollywood
This 1982 film directed by Mahesh Bhatt touches upon the issue of infidelity in Indian society. Why does this film stand out? The answer lies in the ending, which was quite different from what one would have expected to see in real life, at least not during those times.

When the heroine, Shabana Azmi's character, finds out about her husband's affair, she doesn't take on the usual role of the voiceless woman. Instead, she strives to let go of a marriage with no foundations and aims for a life where she intends to find happiness within herself.
3. Damini

Image credit: Red Chillies
In Damini, Meenakshi Shesadri plays the role of a virtuous and honest woman who has been married to a man from a wealthy family. Morality and relationships are tested when she sees her brother-in-law raping the house maid, and she decides to speak out. Facing opposition from her family, even her husband, she fights for justice alone.

4. Mirch Masala

Image credit: Wikimedia
Directed by Ketan Mehta, Mirch Masala is the story of Sonbai, played by Smita Patil. The film, set in a Gujarati village during the colonial period, is based on the issues of high tax collections and the misuse of power by government officials prevalent during that time.

A perversely cruel tax collector, played by Naseeruddin Shah, arrives in the village and is smitten by Sonbai, and wants to 'conquer' her. Her defiance to the demands of the officer and her resilience in the face of the events that unfold post this eventually makes the women in the village realize their rights and rise up against the oppression of the system.
The final scene, where Sonbai tries to protect herself by throwing chilli powder on Shah's face, holding a sickle in her hand, is similar to the image of Goddess Durga that we get to see everywhere.
5. Kahaani

Image credit: Filmy Vodka
This 2012 film goes as close to depicting the modern Goddess as it can. The story revolves around Vidya Balan's character, who seeks to avenge her husband's death while trying to stop a terrorist attack in Kolkata. She takes it upon herself to find the mastermind behind the whole operation.

The final scene behind a Durja Puja pandal, where she confronts the villain and kills him with the sheer anger in her eyes, will definitely give you goosebumps.
6. Mardaani

Image credit: GoStar
This movie is the story of a no-nonsense cop, played by Rani Mukherjee, as she embarks on a trail to save a teenager who has been kidnapped. The events that unfold soon enough prove that it is not just a case of kidnapping, but that there is a deep and organized racket involved, dealing with the trafficking of young girls and drugs. Rani's stellar performance in this film will leave you amazed.

7. Queen

Image credit: Movinfish
This light-hearted film does not address the apparent evils of society per se, but it shows the subtle ways in which women are still considered to be weak. For instance, sending the teenager brother to 'protect' his adult sister wherever she goes or the fiancé calling off the wedding because he thinks his fiancé is way too simple and 'backward' for his tastes.

These events cause Rani, the protagonist played by Kangana Ranaut, to embark on the journey of a lifetime, during which she learns to be strong-willed and independent. Her fight is against the stereotypes attributed to women, as well as against her own insecurities that she goes on to, eventually, overcome.
Do you think we left out any other great women-centric Bollywood films? Do tell us, in the comments below!