'Kabali' Trailer Review: When Rajini's style leads to goosebumps

The Indian Express
02/05/2016
You know Rajinikanth is arriving when a south Indian movie trailer receives one million likes within an hour, trends in Facebook and Twitter and rumours about it escalates to a maddening hype. Pa Ranjith's latest movie's official online teaser is creating a manic rave among movie goers as expected, when the undisputed king of Tamil cinema, Rajinikanth, returns on screen as 'Kabali'.
The teaser spreading over a minute is studded with shots of Rajini that brims with his class and charisma, highlights being his salt and pepper hair style and beard along with the well tailored grey suit. As it is forbidden to worry about storyline and repeated formula for super star movies, especially Rajini movies, by seeing the trailer it hardly looks any different. A generous underworld don who cares for the welfare of the poor and marginalised mass, by becoming a parallel system to counter oppressive- capitalist forces, 'Kabali', meaning Lord Shiva, doesn't look any different than being another reincarnation of Mario Puzo's Godfather inspired don movies. But what relevance does storyboard have when it is all about one of the most influential man in Tamil Nadu, whose most minimalistic gesture on screen have the power to create ripples among audience, such is the aura of Rajini.
'Kabali' trailer: Superstar Rajinikanth is a fiery don
The trailer, however, reveals the quality of technical perfection with which the movie is made and also shares the background music for Kabali, an intense sound of siren with dropping beats and electric guitar in backdrop is sure to enthral Rajini fans. One shot from the trailer where Rajini is shown proclaiming himself as 'Kabali da', with a regal arrogance that dissents the whole world, is enough to provide what to expect from this mass entertainer. Another interesting aspect about the trailer is the scene where Rajinji is shown in his old retro style with thick moustache and long hair, which is sure to be from the shots to show his past when he transforms to a Don.
Radhika Apte, heroine of the movie, looks graceful in the trailer, in a traditional south Indian attire. Even though no imposing villain is shown in trailer to face off with Kabali , actor Kishore is shown shouting 'Yaarda intha Kabali, Vara sollra avane' (Whose is this Kabali? Ask him to come in face) amidst a gang of Malaysian goons, certainly looks to be a smaller villain who is supposed to introduce 'Kabali'.
Considering Pa Ranjith's last movie 'Madras', which was an engaging political story, 'Kabali' , let's hope will be on more political lines and takes up serious issues , rather than an usual one man show don movie.
Nevertheless to say Kabali's teaser has mounted the expectations over the movie which is scheduled to release later this month, will see Tamil cinema's most favourite son Rajinikanth at the age of 65, again pulling off a mass entertainer with his signature style, prompting goose bumps among his diehard fans, yet again.
Entertainment Videos by Indian Express
Also Read: Kabali teaser- Rajinikanth is looking like 'Baahubali ka Baap', says Ram Gopal Varma
In Pics: Rajinikanth- The Ultimate Superstar Forever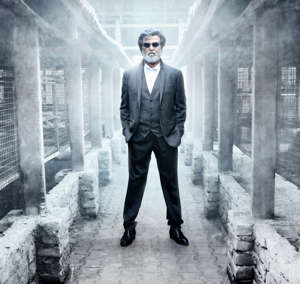 More from The Indian Express Entertainment

The Indian Express