18 lip-smacking street foods that will make you run for a bite

HolidayIQ.com
15/02/2017
1. Vada Pav- This Dish Suits Every Pocket & Palate

If you haven't tasted this favourite snack from Mumbai then you have no right to say anything about it. Spicy potato fritters in a bun, sold almost everywhere in Mumbai. HolidayIQ Traveller Kaberi shares: "The street food is world famous and you can relish them at Chowpatty. Try poha, upma, surali wadi, vada pav, pav bhaji, thalipeeth, zunka bhakar, sabudana khichdi and Kolhapuri misal. Mumbai has a variety of non- veg and veg food. Try vegetarian food at BBT and Shiv Sagar."
2. Varanasi's Favourite, Kachori Sabzi - A Spur Of Flavours
Have this dish at any time of the day! This traditional brunch snack is made by filling small dough balls with a spicy potato mash. HIQ reviewer Anshuman Mukherjee shares: "We had a good breakfast of kachori with sabzi."
3. The Spicy & Tangy - Pyaaz Kachoris From Rajasthan
Your trip to Rajasthan is incomplete if you haven't had this scrumptious dish. A variation of kachori, pyaaz kachori is a filling of onions, potatoes and spices. This puffy pastry is a sell out at every namkeen shop in Rajasthan. This breakfast snack is best enjoyed with sweet and sour tamarind chutney. "The kachoris are famous in Jaipur. Try going to Chokhi Dhani for dinner," says HolidayIQ Traveller Hardesh Verma.
4. The Most Delectable, Doodh- Jalebi
Is it doodh? Is it Jalebi? Is it both? Oh yes it is Doodh-Jalebi the most delectable Rajasthani dessert. HolidayIQ Traveller Vivek Malpani shares: "We had little snacks i.e. Ghewer and some Feeni with milk. This is a very famous Marwari dish, full of carbohydrates." A must have!
5. Banarasi Chuda Matar
If you are in Banaras, a must visit place is Luxa Road for the city's most famous chaat bhandaar, Dina Chaat. The most unique and a must eat is the 'tamatar chaat'. This chaat is served in kulhads, a mixture of thick tomato gravy , chhole, peas, onions, an array of spices with different chutneys and a squeeze of lime. Other dishes that are a must try are chuda matar, spinach papdi chaat, aloo tikki, dahi puri and gulab jamuns. HolidayIQ Traveller Arnab Chatterjee shares, "A short walk will take you to the Dina Chat Bhandar which serves some of the most delicious chaats."
6. This One Needs No Introduction! Pani-Puri!
Pani Puri! These words come with a stir of nostalgia, craving and contentment. You are truly missing out if you haven't had pani puris. HolidayIQ Traveller Deeps shares: "You can spot various bollywood celebrities at Juhu beach. Try out the local street food offered at food stalls and snack joints set up at the beach. Street food, such as 'pani puri', 'bhel puri' and 'pav bhaji' are just awesome."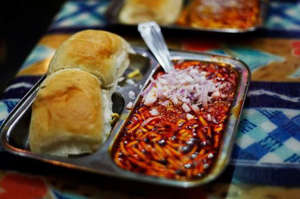 7. World's Tastiest Vegetarian Dish- Misal Pav
The tastiest vegetarian dish in the world indeed! One of the most famous of Maharashtrian recipes, Misal is a scrumptious cocktail of savouries and sprouts! Gypsy Corner at Dadar Shivaji Park serves one of the best Misal Pav's in Mumbai. HolidayIQ Traveller Kaberi Das shares: "Misal pav is a must try when in Mumbai. The thought of it leaves me drooling."
8. The Traditional Yet Tasty- Idli-Vada
Enjoy a vada for breakfast as an accomplishment to the traditional idli and sambar or just without it. Hot idlis dipped in sambar with a dash of ghee is sure to make you crave for more. HolidayIQ Traveller Ek shares, "Chennai is where you get the cuisine you want. You name it, you get it! But for sure you must taste the tasty south indian breakfast (Idli sambar and multi colored chutneys)."
9. This Syrupy Goodness- Falooda Kulfi
This syrupy goodness is worth all the calorie intake! Relish the famous kulfi faluda at chandni chowk at Giani's or try Roshan di Kulfi at Karol Bagh. HolidayIQ Traveller Vipin Rishiraj recommends, "You have to have kulfi faluda at Roshan."
10. Mumbai's Favourite- Grilled Sandwich
You definitely do not need an introduction to this snack. Do you? The roadside sandwiches in Mumbai have a story of their own. There are unlimited variations of sandwich: butter, mayonnaise, cheese, schezwan, toasted, grilled, egg, vegetable, oh, the possibilities! Baba Sandwich stall near Mithibai college is one of the must visit sandwich joints.
11. The Humble Litti Chkha From Bihar
Litti up your food! This lip-smacking dish is a famous street food from Bihar. HolidayIQ Traveller Kunal shares: "The litti chokha aroma at Shankar Litti Bhandar!" Drooling already? If you are a Bihari living away from your hometown, look no further. The Jharkhand Food Stall at Dilli Haat is where you can enjoy scrumptious litti chokha in Delhi.
12. Sweet & Sour- Yumm! Poha- Jalebi
Indore is very popular for the wide range of namkeens, samosa, chaats, lapsi and the best one bafla. Poha-Jalebi is the best street food and the specialty of Indore served with sev & nukti and with jalebi.
13. The Crunchy Roadside Treat- Ragda Pattice
For a meagre price, you can have this patty loaded with steaming hot cholle! This street food is quite filling. Made out of potatoes, the patties are made in ghee. HolidayIQ Traveller Rashesh shares: "Ahmedabad is a pretty cool city with great food and people. From undhiya to dal dhokli and patra to basundi, Gujaratis have something to satisfy everyone's taste buds. Have ragda pattice and papdi chaat at Manek Chowk in the evenings."
14. The Mouth Watering- Kolkata Rolls
Mexican burritos? Spanish handheld tacos? No, try the rolls in Kolkata. Essentially a chapatti or a paratha filled with the juiciest of mutton kebabs, fried chicken pieces, mutton keema, paneer or fried egg, rolls are the most devoured street food in Kolkata. HolidayIQ Traveller Sanadhya Joseph recommends: "If you have a taste for the local cuisine and the stomach to handle it, then one has to try the rolls at Zaika. A must have, is at rolls at Park street."
15. The King Of Street Food- Momos
The chicken and the vegetable momos, served with hot clear soup and a generous helping of fiery 'khorsani' sauce is a very popular street food of Darjeeling. HolidayIQ Traveller Avinash Gupta recommends: "Sipping hot tea and relishing the hot momos are a must when in Darjeeling." - 12885 Ratings, 8065 Reviews, 75 Sightseeings, 1341 Photos
16. The Fiery- Piro Aloo & Thukpa From Sikkim
From steaming bowls of Thukpa (soupy noodles with vegetables or meat) with Piro Aloo Dum(Hot and spicy Dum Aloo) to Sel Roti, the street food of Sikkim caters to the taste buds of any adventurous foodie. HolidayIQ Traveller Babita Goyal shares: "The North-Eastern states also have an exceptional variety of sweet dishes. In Sikkim - seal roti is very famous. It is eaten with spicy potato and is mainly prepared during the festivals."
17. Galouti Kebabs From Lucknow
Kebabs are an all time favorite food in Lucknow. Try these delicious kebabs flavored with hot spices and peppercorns, sprinkled with lemon juice. HolidayIQ Traveller Hohtasar Hussain explains, "The street food was just mind teaser especially Kebabs, "Tunde ke Kebabs" and Motiya Biryani I visited many places such as Bada Imambara and Chota Imambara, very peaceful place I must say.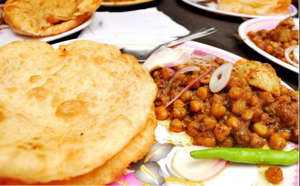 18. The Most Appetizing- Chole Bhature
Chole Bhature is one of the most popular street-food delicacies in Delhi. HolidayIQ Traveller Navdeep Bharadwaj shares: "Delhi is famous for it's street food from tandoori, choley bhaturey to dahi bhalle, you have it all."Now it's your turn. Which street food quest has led you on an adventure? Tell us about it. Better yet show us. Download our app and shoot a video of the place and your menu. Tell us what's great and what sucks. Hey, who knows. We may make you famous. We just may.
In pics: What does these fancy culinary terms mean?

Next Story
26 foods to keep you looking & feeling young