How to Eject Yourself Out of a Rut

LinkedIn
08/05/2017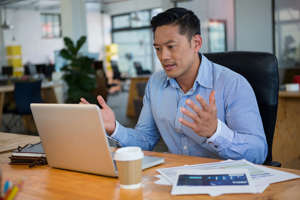 © Wavebreakmedia/Getty Images Frustrated business executive. It's so easy to get stuck in a rut. Case in point: many ruts are filled with perfectly decent work that just happens to collectively represent an uninspired collection of average.

If we're going to be honest about it, much of business life is filled with boring ruts.
This has me so worried that three of my recent LinkedIn articles have been fiction. Not fake news, mind you, but actual short stories, clearly labeled as fiction:
Never Underestimate the Power of Focus
The Meaning of Life, Revealed
When Someone Believes in You, Listen!
Have I suddenly enrolled in Kenyon College and am spending my days writing poetry and fiction on the lawn?
Nope. I'm just mixing it up a little to ensure I don't get stuck in a rut. You might want to do the same.
(Mix it up, that is, not necessarily start writing fiction.)
Imagine that Jerry Waklovia - a person I just made up - was a big hit presenting at his company sales meeting in 2002. The odds are pretty good that he's still presenting in exactly that same manner today, because "it works!".
No, Jerry, it does NOT.
Your career is filled with innumerable opportunities to get stuck in a rut. To name a few:
* What you consider your most marketable skill
* How you describe yourself to potential employers

* When you decide to look for a new opportunity
* How you dress
*With whom you associate and socialize; this includes when and with whom you eat lunch
* How you share your best ideas, research, and opinions
* Whether - or not - you sell yourself short
To follow up on that last point, it is so easy to sell yourself short simply by missing the fact that you are stuck in a rut. For example, you may perceive that you are using a "proven strategy", just like my imaginary friend, Jerry.
If you pitch an idea and five minutes later the CEO calls to invite you to lunch, you are on the right track.
If you pitch an idea and six months go by without anything good happening, you may be stuck in a rut.
Mix it up. Experiment a bit. Expect more from yourself. Most importantly, embrace feedback and actually use it.
Hint: if you feel as though you are stuck in a rut, you are almost certainly stuck in a rut. Try something different, but - this is the hugely important part - actually pay attention to how others react.
More from LinkedIn:
Learn a new skill on LinkedIn Learning
Bruce Kasanoff is a ghostwriter for thought leaders. He is the author of NEVER TELL PEOPLE WHAT YOU DO.
More from LinkedIn
LinkedIn