National Bank of Abu Dhabi chief steps down ahead of merger
The Financial Times
15/08/2016
The chief executive of National Bank of Abu Dhabi has stepped down earlier than expected ahead of a $29bn merger with its smaller rival First Gulf Bank that will create a new regional champion.
NBAD said in a statement on Monday morning that Alex Thursby, who has run the bank for slightly over three years, would be replaced on an interim basis by Abhijit Choudhury, its chief risk officer for the past decade.
The directors of NBAD and FGB voted unanimously last month to create a national banking group with $175bn in assets, a combined market capitalisation of $29bn, more than a quarter of Abu Dhabi's outstanding loans and a network across 19 countries.
The groups said at the time the deal was announced that a new chief executive would be appointed from within FGB to replace the heads of the two banks at what will be the biggest bank in the Middle East and north Africa.
The merger follows recent difficulties at NBAD, which suffered an 8 per cent fall in first-half profits as provisions for bad loans rose three-quarters because of the low oil price.
Mr Thursby, a former executive at Australia's ANZ and the UK's Standard Chartered, had been under pressure over NBAD's faltering performance, according to bankers who have worked with the group. While its $111bn of assets make it larger than FGB, its profits declined last year to $1.4bn, below those of its faster-growing rival.
NBAD has also suffered a major withdrawal of government deposits since the oil price decline sparked a cash crunch among government departments and state-related companies. But bankers said that NBAD enjoyed better asset quality than FGB as the emirate's main state-controlled institution.
"I leave the bank in a very strong position to make a success of the merger and thrive in an increasingly competitive landscape," said Mr Thursby.
"I feel strongly that it is important from now, that there is alignment between the decisions being taken during integration planning, and implementation of these decisions after the merger is legally completed."
The planned merger, which is due to be completed in the first quarter of 2017, was presented by the two banks as a "merger of equals". Shareholders of FGB are due to receive 1.254 NBAD shares for each share they hold.
However, FGB appears to have come out on top in the governance of the combined group with Sheikh Tahnoon Bin Zayed Al Nahyan, its chairman, being designated to chair the combined institution. Nasser Ahmed Alsowaidi, NBAD chairman, will act as vice-chair, alongside eight board members nominated equally by each bank.
NBAD also said it had appointed Khalifa Sultan Al Suwaidi, an executive from the state-owned Abu Dhabi Investment Council, who is also a non-executive director of the bank, to a newly created position of managing director to "support the bank through the integration planning process until the merger completes".
The Abu Dhabi government and related entities will own about 37 per cent of the combined bank, while members of the ruling family will own a further third. The merger requires 75 per cent shareholder support.
While the bank will be 52 per cent held by FGB shareholders and 48 per cent by NBAD shareholders, it will retain the name of NBAD. FGB will be delisted on the date of the merger.
More from the FT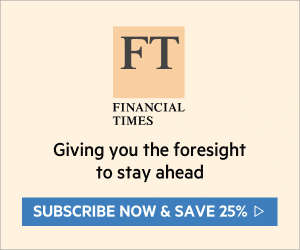 The Financial Times