Gunman kills 12 in 'horrific' mass shooting at Thousand Oaks bar packed with college students

Los Angeles Times
08/11/2018
Video by The Associated Press
At least a dozen people are dead after a gunman opened fire inside a crowded Thousand Oaks bar late Wednesday night, throwing smoke bombs and raining bullets on an event popular with college students.
The shooting inside the Borderline Bar & Grill has killed at least 11 people, including the gunman, and seriously injured several more, according to Ventura County Sheriff Geoff Dean. A sheriff's department sergeant was shot several times and died at a hospital.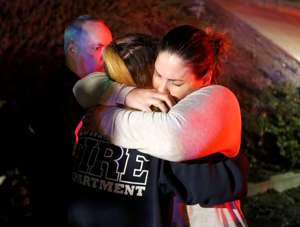 Photo gallery by photo services
The gunman, who is believed to be among the dead, burst into the bar around 11:20 p.m., cloaked in all black as he threw smoke bombs and began shooting at targets as young as 18 , authorities and witnesses said. Several witnesses described the weapon used as a pistol.
Deputies arrived and got into a firefight with the suspect, which left one deputy seriously injured, according to Capt. Garo Kuredjian, a Ventura County Sheriff's department spokesman.
Witnesses reported a horrifying scene as gunfire echoed through the club and those inside ran for cover, in some cases using chairs to break windows to escape the building. Others hid in bathrooms and an attic as they frantically called loved ones who were hearing reports of the shooting.
© Mike Baker / For the Times /
Teylor Whittler went to Borderline to celebrate her 21st birthday on Wednesday night. She was dancing with friends in the bar when she heard what sounded like firecrackers. She quickly turned and followed the noise, only to find a man holding a gun near the entrance to Borderline.
Erika Sigman, 19, said she began to race toward an exit as soon as screams erupted.
"I'm a Thousand Oaks resident," she said. "This is a safe place. My parents let me go here. This is a trusted place ... to know that this happened in my safe place is a very, very scary thing. You just don't expect it to happen in Thousand Oaks."
The FBI's Joint Terrorism Task Force had been dispatched to the scene, according to an agency spokeswoman. She could not immediately comment on a motive in the shooting. Representatives from the U.S. Bureau of Alcohol, Tobacco, Firearms & Explosives had also been dispatched.
Kuredjian said hundreds of people were inside the bar at the time of the shooting, but he could not comment on the extent of the injuries suffered by those shot. The number of people injured is likely to rise, he said, as many victims transported themselves to area hospitals and emergency rooms with injuries.
Wednesday nights are college-themed nights open to students as young as 18, according to the bar's website. Witnesses said the event is popular with Moorpark college students, and the Pepperdine student newspaper tweeted that students from its campus were also inside at the time of the shooting.
Some witnesses said the bar was a hub for country music fans. Many of the attendees Wednesday night normally attended the Stage Coach country music festival in California and, tragically, some were survivors of the massacre at the Route 91 Harvest Festival in Las Vegas that left 58 dead last year.
Large crowds were forming in the area as friends and family members arrived at the scene to try and find out if their loved ones had survived the assault. Some who escaped the gunfire could be seen frantically talking on phones desperate to get information on friends or family members who may have been trapped inside, announcing the names of the people they were searching for during live television interviews.
A hotline has been established for those seeking information about their loved ones, according to the Ventura County Fire Department, which urged people to call (805) 465-6650.
Nellie Wong, who was also celebrating her 21st birthday on Wednesday night, said she scraped her knees diving to the floor when the shots rang out. Wong said she believed the gunman, who was dressed in a black hoodie, black shirt and black pants with a scarf obscuring his face, threw smoke bombs as he entered.
"Thank goodness he didn't see me at all. I immediately stopped moving, stopped breathing," said Wong, a student at California State University Channel Islands in Camarillo. "My heart was pumping really fast."
Savannah Stafseth was standing outside crying with multiple cuts on her arms
"There are no words. Those are my people," she said. "It's just not fair. It's not fair."
Aubrey Ryan, 27, of Newbury Park, was in the front of the restaurant with at least 15 friends when a man came in and started shooting at the ceiling.
The gunman shouted something but Ryan could not hear what he said. A friend threw her onto an outdoor balcony as the gunfire rang out so she could escape, said Ryan, who feared some of her friends were still inside the bar.
This is the second time this year Thousand Oaks has seen violence in a crowded area. In March, a man shot and killed his wife before attempting to shoot himself at the Thousand Oaks Mall.
Around 1:30 a.m., dozens of people lined the sidewalk in Moorpark as police lights flashed through the darkness. Some sat on a concrete hill and watched from their perch.
Employees and people who had friends inside the bar huddled together, some hugging and asking one another if they had any updates from loved ones.
Tyler Odekirk, 21, started working at the bar as a security guard two months ago. He said he knew "everybody" at the bar Wednesday night because he was there so often, but he was struggling to reach friends.
"I can't get anything to anybody that's in there," he said. "I had a friend call me in a panic thinking that I was there."
Carl Edgar, a 24-year-old Tarzana resident, said he had about 20 friends inside the bar, where he is a regular. The bar is an extremely popular hangout for Moorpark College students on Wednesday nights, according to Edgar, who was speaking with friends who were inside when the shooting began.
One texted him that she was hiding in a bathroom, fearing for her life. But Edgar said he was hopeful that his friends were safe.
Some of them, sadly, had been through this before.
"There are a few people we can't get a hold of, but in these situations people usually turn off their phones to be safe so I'm not gonna get too worried. A lot of my friends survived Route 91," he said. "If they survived that, they will survive this."
Times Staff Writer Rong-Gong Lin II and Andrea Castillo contributed to this report.
UPDATES:
2:45 p.m.: Updated with addtiional details from the Ventura County Sheriff's Department.
2 a.m.: Updated with more details and fatalities.
1:25 a.m.: Updated to raise the number of wounded from 7 to 11.
1:05 a.m.: This story was updated with comments from the scene and the number of people shot.
Download the Microsoft News app for your Android or iPhone device and get news & live updates on the go.
Join our WhatsApp service now to get daily news updates! Save our number and send "Subscribe" to +971503592257 to receive our news digest twice a day!