Don't curse Pujara

ESPNcricinfo
21/08/2018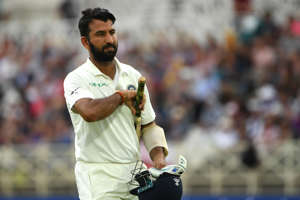 Editor's note: The opinions in this article are the author's, as published by our content partner, and do not represent the views of MSN or Microsoft.
What do you reckon was India's priority on Monday morning as the overnight pair of Cheteshwar Pujara and Virat Kohli took fresh guard?
Do not lose a wicket, at least in the first hour?
Complete coverage: India's tour of England 
India did much more than that. For the second time in three days, they batted out a wicketless session. If Kohli and Rahane had provided wings to India's first innings with their highest partnership of this series (159) on Saturday, Pujara and Kohli's vigil on a humid morning today put England out of the game thoroughly.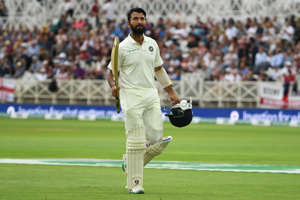 And as many records as Kohli broke during the course of his second century this series, India ought to thank Pujara too. A cricketer that modern cricket finds hard to accept.
In times when attack is the motto of every Test team, Pujara is something of an introvert. He goes into his shell and enjoys operating quietly. But that is how he finds his comfort zone. Not that he cannot play aggressively. Late on Sunday afternoon, Pujara played more freely than at any point of time this year in all cricket, scoring quickly against Ben Stokes and Adil Rashid. His first scoring shot of the innings was a four, a flick off the hips against a short one from Stokes. He got to 25 off 26 balls. By stumps, Pujara retired to bed on 33 off 67.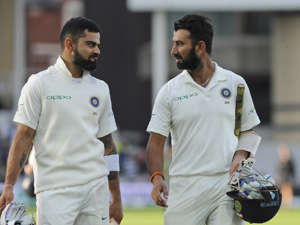 The boldness elicited a response from the pundits and critics who pointed out that is what Kohli's India is asking Pujara to do: play with freedom. At one point Pujara was under duress, but in general this series he has looked more assured and at ease than otherwise of late. And he also knows exactly what his role is: provide stability, be the sponge to absorb the pressure created by the opposition's fast bowlers.
Pujara did that in that in the first session on Monday, of which the first hour was the most engrossing. It was when James Anderson bowled with high intensity. Pujara faced 34 deliveries in the first 10 overs. Twenty-four of those were from James Anderson, from the Pavilion End. Pujara had two scoring shots. By the time the first hour finished Pujara had faced 58 balls, scored 8 runs. Half of those deliveries had come from Anderson and Pujara scored 5 runs.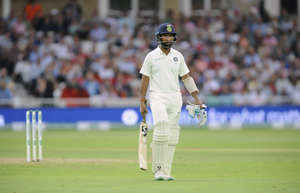 © AP Photo  
The day started humid, but there was a steady breeze around and no swing. Anderson focussed on hitting the seam hard. Bowling fast. There are not many disciplined fast bowlers in the world, barring Vernon Philander, who can dissect the batsman's mind and technique with sustained, probing spells.
Having got off to a stroke-filled start this innings, Pujara scored no run off the last 11 deliveries last evening. This morning he was on the lookout, not for runs, but for that one surprise Anderson has in store for a batsman, and which arrives in the post sans a knock at the door.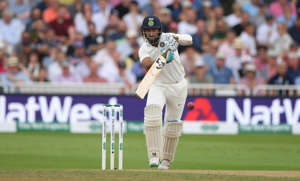 Anderson was hitting the Anderson lengths. Pujara would leave most of the balls pitched on a length, most on the sixth stump. The first ball of Anderson's fourth over today, Pujara reacted quickly to a fuller length delivery on his legs with a flicked four past midwicket. Anderson pushed the square leg back. The next two balls were in the channel that Pujara negotiated without fuss. The fourth delivery was a bouncer. Pujara ducked, no more hooking.
Anderson then sneaked in that surprise quietly. Ball pitched about five metres from Pujara. It landed on the seam. Straightened. Opened up Pujara. Nearly took the edge. Next ball Anderson pitched on the sixth stump. Pujara was at ease. But you never are when it is Anderson.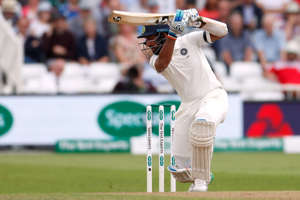 In his following over, the second ball, Anderson pitched the ball a hair's length fuller. Pujara's trigger movement was to move forward, but he had not covered the line. The ball straightened and took the edge. Jos Buttler attempted to collect the ball, which was to his right, like a goalkeeper in football. The man moaning in pain was Anderson. Pujara had switched off. Soon Anderson would finish his first spell. Pujara had taken the venom off England's attack.
The runs were coming slowly, but Pujara continued to be watchful. Kohli encouraged him to do that. In the first session India made 70 runs. Kohli's strike rate was 55.97. Pujara's 55.97. Importantly, India had won the session without being bruised. These things matter in Test cricket.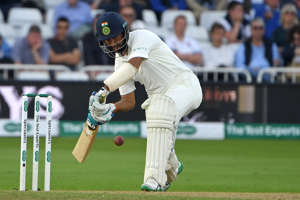 After the break, Pujara would raise his bat for the first time in this series as he pipped Kohli to the half-century. It was Pujara's second half-century in Tests this year, after his vigilant effort in Johannesburg where he took a record 54 balls to get off the mark. The man at the other end at the Wanderers was... you guessed it right, Kohli.
Their 113-run stand here was the first time Pujara was involved in a three-figure partnership in England/Australia/South Africa/New Zealand since the 2013-14 tour of South Africa where he scored handsomely. Pujara continued to play with the same tempo in the 40 minutes post lunch before he was forced to exit after Stokes induced an edge off him. Post lunch Pujara scored 16 off 40 deliveries at a strike rate of 40 compared to Kohli's 48.27.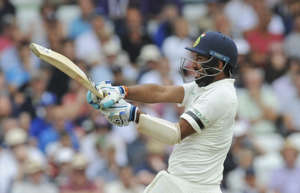 In the end Pujara had done what Kohli had been asking of his main batsmen: build partnerships, force the fast bowlers into their third and fourth spells, make use of the old ball. India could not have asked for better conditions. The pitch, although it has played faster than on the first day, has been dry. The conditions have not been dank and seaming as it was at Lord's on the first morning.
Importantly, India had been on top on the first two days. Today their batsmen needed to not just frustrate England, but amass a target that eventually could psychologically hurt England. They have achieved that and Pujara played a crucial role.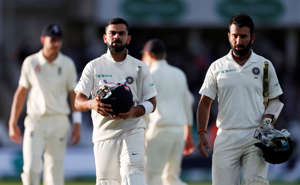 After he finally started to walk back to the dressing room after Cook caught him at first slip, Kohli walked up patted his back. "Job done, Puji," Kohli might have said. The naysayers might nitpick about Pujara not scoring a century. They might also say that he is unsure about how to score, because of the pressure from the team think tank to score aggressively. Only Pujara knows the truth. What he also knows is he can score big only when he plays his way.
Don't curse Pujara for what he is good at.
Photos: World records held by Virat Kohli across all formats
Watch: 'Kohli's focus is a trait of a legend'
Download the Microsoft News app for your Android or iPhone device and get news & live updates on the go. Follow our Cricket & Sports section in English and Hindi.