These 11 Scenic Roads In India Are For Those Who Love Driving

Polka Café
15 hrs ago
India has some of the best roadways, and you will never know what's in it until you explore it. Although Indian roads receive a bad rap for theirmaintenance and are enlisted among some of the most unsafe in the world,  that should not come in the way of your adventures. Especially these one listed here. Road trips are an experience where you will get to know yourself and people accompanying you, like never before! If you love travelling or driving or both, then let us unravel these must- take road trips for you.   
Manali to Leh
© Polkacafe Manali to Leh You have seen a part of this route if you have watched Bollywood flick, 'Jab We Met'. Remember the snow-laden road where Kareena Kapoor dances in a jeep while Shahid Kapoor drives it with only snow all around? This road is open only from April to October and it takes two days to cover the journey, so plan your trip accordingly. Since it is a tourist area as well, you will get plenty options for a stopover. If you are a biker, you must ride on this road. It offers a very serene view. This undulating and mysterious terrain will give you the ultimate thrill you are looking for.
Distance: 500 Kilometers
Mumbai to Goa
© Polkacafe Mumbai to Goa It is probably one of the most-hyped road trips that every teenager would love to take. The secret behind it is the extremely well-planned Mumbai-Goa highway. It makes for a very comfortable, safe and fun journey. You can stop for food, water, beer, or some local sweet ('chikki'). If this does not convince you, draw your inspiration from the famous Bollywood film, 'Dil Chahta Hain'. Yes! They really drove on that highway, it was not a studio.
Distance: 600 Kilometers
Chennai to Munnar
© Polkacafe Chennai to Munnar Slowly receding from a coastline and reaching out to the romantic hilly expanse. The road is aromatic as well. Why aromatic you ask? A wild and pleasant cocoa and tea aroma will welcome you to Munnar. Tthe climate will toggle from hot to cool and comfortable, owing to the higher elevation. It is perfect if you want to drive to Munnar over a weekend and be at leisure. You can indulge in local cuisine and also explore the lush green and pristine valley.
Distance: 600 Kilometers
Shimla To Manali Via Spiti
© Polkacafe Shimla To Manali Via Spiti You have to admit that driving or riding along the meandering mountain roads is the most exciting thing for any driver or rider. It is like appearing for the license test every single time. Although there are various ways to reach Manali from Shimla, this route will make it an electrifying experience. But you have to have enough time in hand, to be able to have sufficient stopovers as it is a very tedious journey. You can choose to stay for one or two days at Spiti or you may choose to stay just a day and explore; but don't miss out on Spiti. You can rest all you want once to reach Manali.
Distance: 700 Kilometers
Gangtok To Tsomgo Lake Via Nathula Pass
© Polkacafe Gangtok To Tsomgo Lake Via Nathula Pass It is the one of the most amazing road trips of North East India. You will get very good road for a certain distance and it is all rocky terrain. The narrow roads, often obstructed by landslides, waterfall, will add to your experience. The Tsomgo Lake is frozen in winters and it is not advisable to ride during winters, though you can always drive. The Nathula Pass is a part of the Indo-China border and you need valid identity cards and pass to go there. But you can start early and come back by evening. If you wish to halt after Nathu La, then you can rest at Lachung, an uprising hill station, which is absolutely snow-covered in winters. You can also take a detour and visit 'Baba Mandir', named after General Harbhajan Singh, who is known to safeguard the entire region all by himself.
Distance: 120 kilometers
Guwahati to Tawang
© Polkacafe Guwahati to Tawang It is also a passionate rider or driver's dream to scoot through this breathtaking road. The snow-clad mountains, and the loud rhythmic of monks chanting Buddhist hymns, is the right amount of surrealism that you need to rejuvenate. The journey is extremely tedious as there are no roads, locals have cut out pathways for their convenience. But you can make halts, hog on the delectable momos, and travel again. You can also sleep over at one of the many budget hotels you will spot on your way. The best time to travel is between March-October.
Distance: 520 Kilometers
Mumbai to Mount Abu
Image credit: Pinterest/Gypsy Diaries
A mellow drift from the flashy urban culture and hustle-bustle of a city to a quaint, little hilly town amid the rather arid desert- sounds very exciting, right? Besides that you will be able to visit three states in total. Yes! You heard me! Maharashtra, Gujarat and Rajasthan. It is a very smooth journey owing to the beautifully constructed contemporary highways. But it is a very long journey so you have to have stopovers. These three states also offer a wide range of vibrant souvenirs, so you can pick them up on the way.
Distance: 800 Kilometers
Bangalore to Coorg
© Polkacafe Bangalore to Coorg Coorg is one of the most popular hill stations of South India with exclusive homemade pork and wine. Bangalore itself offers a jaw-dropping skyline of scarlet hues and the drive to Coorg is ecstatic, as you will cross the Western Ghats hills. A considerable part of the journey is through a small forest and it is as spooky as it can be. Although it is a short distance, it is one of the most alluring journeys. You can stop over for food and amazing filter coffee on your way.
Distance: 260 Kilometers
Kolkata to Kumaon
© Polkacafe Kolkata to Kumaon This is an unmatched and long road trip, which needs grit to achieve. So, if you have got what it takes, pack your bag and set out to witness the irresistible camouflaging of plains into green and eventually snow-clad mountains. Make sure you pack enough knick-knacks for the way as it is hectic. You can also have several stopovers as the hills provide budget hotels with incredible view. Also, the long distance means visiting numerous states, cities, towns, cultures and that is any day more rewarding right?
Distance: 1400 Kilometers
Chennai to Pondicherry
© Polkacafe Chennai to Pondicherry Another trip that you can take from Chennai is to this faraway coastline in Pondicherry. It is fun to drive or ride alongside the beach and halting to see the sunset or rise. You can stop at beaches, stay at a shack, and make memories to last you a lifetime. You can also try out the cuisine and explore remote beaches in and around.
Distance: 200 Kilometers.
Bangalore to Ooty
© Polkacafe Bangalore to Ooty The road from Bangalore to Ooty is scenic. The road to Ooty is very well-known for its 36 hairpin bends. The route also takes you through the Mudumalai National Park. Ooty, also known as the Queen of Hills, is known for its beautiful climate. 
Distance: 300 kms
Delhi to Dehradun
© Polkacafe Delhi to Dehradun Besides that being an alliteration, it is one of the most enthralling journeys you will undertake. You could be joined by fellow travelers, who might be more experienced and guide you. From the noisy and polluted city, you will slowly ascend to the rhododendron dotted hills. The skyline of Dehradun especially during dusk is the most perfect sunset, the image of which will be engraved in your heart. You can stop at numerous 'dhabas' on the way to gorge on steamy 'Paranthas', layered with butter or 'ghee'. You can stay at Mussourie and then set out again to explore Landour and small nearby hill towns.
Distance: 250 Kilometers
Vishakhapatnam to Araku Valley
© Polkacafe Vishakhapatnam to Araku Valley The lesser known place but extremely exciting road trips. With mountains running parallel to your smooth highway, loud music, good company, isn't that all you need to make a memorable road trip? Araku Valley is also breathtaking in its own way, which will feel like the mountains are holding you on a lap. You can stop by at roadside stalls for snacks and a hot cup of tea?
Distance: 120 Kilometers
More from MSN Travel
In pics: Amazing road trips around the world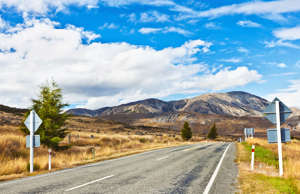 Amazing road trips around the world