James Bay's Australian near misses

AAP
4/02/2016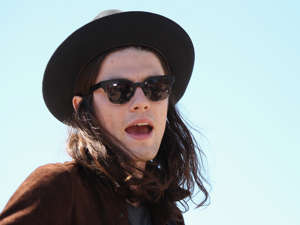 © Don Arnold/Getty Images James Bay performs at Sydney Opera House on August 14, 2015. English singer-songwriter James Bay has had a couple of near misses while performing in Australia, but it hasn't stopped him returning three times over the past year.
Just a few days ago, his concert in front of 3500 people in Fremantle, WA was nearly called off for reasons outside the singer's control.
"Freo was insane. It smashed it with rain all day and we were genuinely close to calling the gig off, which is something I can only reveal at this point because the gig actually happened," Bay told AAP.
"We had to spend two hours on the soundcheck, being careful because there's rain coming through and it's heavy."
Bay reveals there were concerns the weather could cause electrical and power problems, and it was touch and go for a while, but then the sun came out.
"We had about 20 minutes to go in soundcheck and the sun started cracking through and then by the end of the soundcheck it was glorious, 30 degrees again. So the gig went ahead," he said.
Half the power was lost so only half the lights were working for the gig, but it went ahead and Bay still seems elated from the reception.
But Australia's love affair with Bay has been an enduring one. His debut album Chaos and the Calm stayed in the ARIA charts for 42 weeks achieving gold sales, while he's sold 394,000 singles over here.
It explains why, despite the near misses, he keeps coming back.
During his last trip, a few months ago, he played in Sydney suffering through a serious bout of jetlag, having just flown in on a 15-hour flight from LA.
But for Bay, the last-minute opportunity to play here was just too tempting.
"My body clock wanted to be not only going to bed but falling asleep and I just had to not feel like that," he said.
"Adrenalin, the most natural and wonderful drug of all came swooping in to save the day. You kick into gear, second or third song, you kick into gear."
There are two sides to Bay's musical personality. He has performed with just him and his guitar in small venues but this time he's brought a full band and his rockier self for gigs in front of thousands, including 5000 in Sydney on Saturday.
The gigs are also getting him revved up for the Grammy Awards in a few weeks, where he's been nominated for three gongs: Best New Artist, Best Rock Performance and Best Rock Song.
"On the Monday that I found out I was up for three Grammys, that was definitely the best Monday of my life because Mondays have a tendency to not be much fun," he said.
He will also perform at the awards ceremony with US singer Tori Kelly who he says has one of the greatest voices around at the moment.
He can't reveal much about the performance, but he will certainly be playing his guitar.
"I can't really get detached from that. It's always there, it's another limb," he said.
And there's one other thing he won't be detached from on the night, his trademark fedora hat.
"Gotta wear it, gotta rock it. It's me isn't it?
"It will change, but I've got to do it."
*James Bay's remaining Australian tour dates:
February 6 - Hordern Pavilion, Sydney
February 7 - Brisbane Convention Centre, Brisbane