Kendrick Lamar just became the first rapper to win a Pulitzer Prize for Music

Business Insider Australia
17/04/2018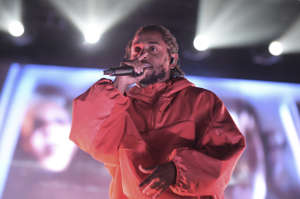 © Richard Shotwell/Invision/AP Kendrick Lamar. Rapper Kendrick Lamar won the Pulitzer Prize for Music on Monday for his critically acclaimed 2017 album "DAMN.," making him the first non-classical or jazz artist to ever win the award.
Last year's prize in the category went to composer Dun Yu's album "Angel's Bone," and the past several decades of awards in the category have largely gone to instrumental LPs.
Lamar's "DAMN.," Billboard's best-selling album of 2017, lost out in the album of the year category at the 2018 Grammy Awards to Bruno Mars' "24k Magic."
© Business Insider Kendrick Lamar. The Pulitzer website described Lamar's work with the following entry:
"Recording released on April 14, 2017, a virtuosic song collection unified by its vernacular authenticity and rhythmic dynamism that offers affecting vignettes capturing the complexity of modern African-American life."