More reasons to eat a Mediterranean-style diet

U.S. News & World Report
22/10/2015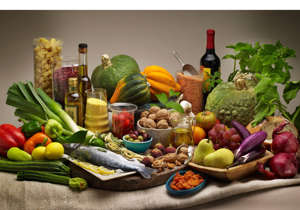 The traditional Mediterranean diet is considered the gold standard when it comes to healthy eating – it's a diet that promotes both vitality and longevity. There are more than 3,000 studies detailing the myriad health benefits, from reducing the risk for heart disease and certain cancers to boosting mood and memory.
Take, for example, the results from the landmark Mediterranean diet human clinical trial (called PREDIMED), which confirms that eating a Mediterranean-style diet supplemented daily with nuts (primarily walnuts) cuts the risk of heart disease by 30 percent and stroke by 49 percent compared to a low-fat diet. What's more, the Mediterranean diet also reduced waistlines and biomarkers associated with declines in cognition. Another study published in JAMA: Internal Medicine reported a significant reduction in breast cancer risk among post-menopausal women in Spain who adhered to a Mediterranean diet rich in extra-virgin olive oil.
The benefits don't stop there. Studies also show that the Mediterranean diet can help cut systemic inflammation, depression and asthma, and can also help you reach your weight-loss goals. No matter where you live – whether it's Buffalo or Barcelona, Peoria or Portofino – you can adopt and enjoy a delicious Mediterranean-style diet. Here are five ways to savor the Mediterranean flavor:
1. Enjoy More Plant-Based Foods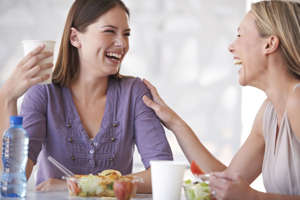 The main principle of eating a Mediterranean diet is enjoying more natural, plant-based foods, such as fruits and veggies; nuts; legumes (beans and peas); and healthy fats such as olive oil and other nut or seed oils. Start by eating five or more servings per day of produce every day and planning a meatless meal, like an Italian garden pizza, at least one night a week. Begin most meals with a salad or tomato-based soup, and end with fresh fruit or fruit-based desserts like baked apples or crumbles.
2. Enjoy Bread & Pasta!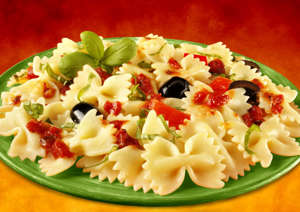 The Mediterranean-style of eating is not low in carbs – and the people of the Mediterranean have some of the lowest rates of obesity in the world! In fact, about 50 percent of the energy in a traditional Mediterranean diet comes from carbohydrates. The types of carbs they eat are considered high-quality carbohydrates, not low-quality carbs like sweets or baked goods. In addition to enjoying many whole grains, such as oats, bulgur and couscous, bread is a staple of the region, and pasta is the primary source of carbs in Italy.
Whole grain or enriched breads are enjoyed as part of a meal and commonly partnered with olive oil or bean- or nut-based dips, such as like hummus or muhammara (red pepper and walnut dip), rather than butter or sugary jams. (Plus, they're not loading up on burgers and dog in buns.) When choosing bread, opt for whole grain, or be sure your loaves aren't loaded with added sugars or saturated fat. Since pasta is made from semolina, a protein-packed wheat variety, a cup of pasta has about 6 grams of protein that will help keep blood sugar levels stable and keep you satisfied. Prepare light and healthy pasta dishes like the Italians do by cooking them al dente (not overcooked) and partnering with other plant-based foods, such as tomato-based sauces and other veggies. 
3. Increase Omega-3s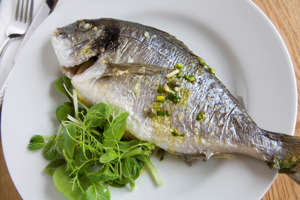 Fish and seafood provide plenty of heart-and brain-boosting omega-3 fatty acids in this region of the world. They generally eat fish and seafood two to three times a week, while Americans eat a fish meal about once a week. What's more, most Mediterranean cuisines include a lot of walnuts, which are the only nut that contain appreciable amounts of plant-based omega-3 fats. To boost your beneficial omega-3s, instead of beef or other red meat, try a fish or walnut dish at least twice a week. 
4. Savor Healthy Oils
While the Mediterranean diet is not low in fat, it's low in unhealthy saturated fats like those present in whole-fat dairy and red meats. In fact, a recent study reported in the Journal of the American College of Cardiology found that replacing just 5 percent of calories from saturated fats with polyunsaturated fats reduced the risk of cardiovascular disease by 25 percent. (That same replacement with monounsaturated fat provided a reduction of risk by some 15 percent.) Foods rich in polyunsaturated fats include sunflower oil; walnuts; and fatty fish such as salmon, mackerel and trout. Some of the best source of monounsaturated fats include olive, peanut and canola oils. 
5. Limit Sweets and Treats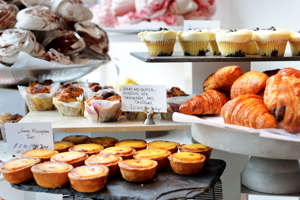 I'd love to suggest that you can enjoy all the delicious foods of the Mediterranean without giving up some American favorites – but that isn't the case. The traditional diet of the Greeks and Spaniards rarely includes candy, baked goods, soda and other sugar-sweetened beverages, and fried foods. The Mediterranean diet is actually low in added sugars, which is why it's considered so beneficial for your health. 
Putting it on Your Plate
Use this Mediterranean diet menu plan to enjoy the fresh flavors of the Mediterranean:
Breakfast
1 cup cooked oats topped with 1/2 cup plain nonfat Greek yogurt and 1/4 cup chopped walnuts
Snack:
Hummus with whole-grain pita chips and fresh veggies (baby carrots and bell pepper strips)
Lunch:
Lentil Soup with two slices whole grain bread
Fresh fruit salad with chopped fresh mint
Snack:
3 to 4 whole grain crackers
8 to 10 olives
1 oz. low-fat Manchego cheese
Dinner:
*Makes four large or six small burgers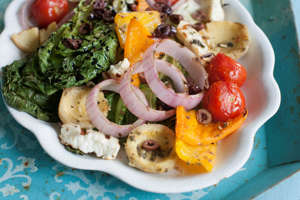 Tossed Greek salad with an olive oil and red wine vinegar dressing
Mediterranean Chicken Burgers
1 pound extra lean ground chicken mixed with 1/2 cup chopped onion and 1/3 cup chopped red bell pepper, 1/4 cup chopped fresh mint leaves and 1 to 2 tablespoons Harissa
Form chicken mixture into four to six patties, and grill until done.
Serve each burger in half a pita pocket with hummus, harissa and leaf lettuce and topped with feta cheese
Fresh fruit dessert
Glass of wine (optional)
More from U.S. News & World Report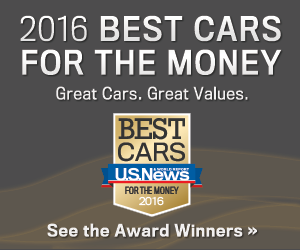 U.S. News & World Report