5 top-rated cooking apps

Photos
28/09/2015
Allthecooks Recipes

All The Cooks isn't just a simple recipe database with a basic search function. All The Cooks is a thriving and vibrant cooking community and the app is where everybody hangs out. Home cooks from all over use this app to find new recipes for meals they love, try new things, connect with other home cooks, trade tips and even share pictures and videos of the different recipes they've made and liked. The thing we love most about this app is that it encourages people to share a recipe's origin story; to link to the site or book in which they found the recipe and any other history of the recipe's development they might know. The backward solve option--where you tell the app what you already have on hand and it tells you what you can cook--is also pretty awesome.
Jamie's Recipes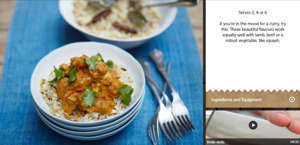 This app is free to download and comes with a starter pack of recipes from celebrity chef Jamie Oliver, then you can buy access to the entire recipe library. It also has videos with tips on some of the tougher cooking techniques and a very clever shopping list tool. There are dishes for every occasion from classic comfort food and beautiful baking to festive treats and super-quick dinners ideal for mid-week cooking.
So Cookbook
So Cookbook wants to make sure that you are able to serve your friends meals so impressive that they crown you the Cooking King or Queen of your social circle. The app has more than 350,000 recipes sourced from Larousse, Aufeminin, Big Oven and many more. This app will help you create food that looks like it was built for a magazine spread (and tastes even better). For home cooks who want to add some flair and pizzazz, this is the app you want.
Epicurious
Epicurious is a long standing favorite in the culinary community. It has been downloaded more than ten million times! The app has recently been given a face (and code) lift and now its interface is much easier to use. Users have particularly appreciated the ability to sync their accounts to whatever device they're using, and the ease of the new and improved shopping list function. Epicurious has also added some really great free features that curious cooks will love to play with when deciding whether to purchase the full app.
Cook with YumvY
Do you ever find yourself wishing that you could make those beautiful and complicated meals you see in fancy restaurants? Cook with YumvY will teach you how to do exactly that. The app breaks down each recipe into simple and easy to follow steps. If you need extra guidance, the app will walk you through every step of the dish's preparation from your mise en place to your final plating. It even has a built in cooking timer that will help ensure that you time your meal perfectly. The app will also build you a shopping list based on whatever meal components you've chosen so that you don't have to try and coordinate ingredients across dishes.
With these five apps, we're confident that you can create any meal you want, no matter what stage you're at in your culinary education. Bon Appetit!