ACT Health prepares for threat of legionnaires' disease

Canberra Times
30/04/2014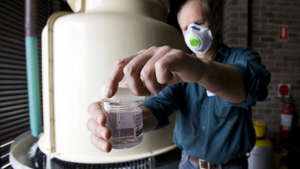 Are we prepared for an outbreak of legionnaires' disease?
This was the question posed by a training exercise involving staff from ACT Health's Health Protection Service, Southern NSW Local Health District's public unit and local councils on Wednesday.
The operation, dubbed Exercise Cross Borders, was aimed at testing the preparedness of public health to handle an outbreak of the potentially deadly disease, senior environmental health officer and NSW legionella consultant Tony Burns said.
The exercise involved an "outbreak" of up to four cases of legionnaires' diseases "linked in time and place" around Canberra, Queanbeyan and Goulburn.
Mr Burns stressed no actual cases of legionnaires' disease had been reported and Wednesday's event was an exercise only.
People can contract legionnaires' disease by breathing in contaminated water vapour or dust.
It is a pneumonia-like illness and symptoms include fever, chills, a cough and shortness of breath. Some people also have muscle aches, headaches, tiredness, appetite loss and diarrhoea, and some become very sick with pneumonia. Although most people recover, the disease is occasionally fatal.
Mr Burns said it could take two to 10 days for symptoms to appear.
He said outbreaks were sometimes associated with contaminated cooling towers that are part of airconditioning systems in large buildings.
Legionella bacteria can grow to high numbers in warm, stagnant water.
"Our man-made systems, like airconditioning systems which have a cooling tower associated with them, can put these aerosols out into the environment if they're not controlled," Mr Burns said.
He said an outbreak of legionnaires' disease had the potential to overwhelm local resources and it was important authorities were prepared. An outbreak is generally considered to be two or more cases "linked in time and place".
"It is important to get a handle on the potential sources of the outbreak fairly quickly and get those tested and treated so potential cases don't continue," he said.
"It's important to know that all the systems we have, our inspection regimes, the fact that we work with local councils which maintain registers of these systems in their local areas and that we have appropriately trained staff who can respond to assist in the time of outbreak. It is important to be trained and trialled and prepared."
Mr Burns said building owners could be served with improvement notices or prohibition notices if it was found their systems had not been adequately maintained.