Bright and Brockhoff in snowboard cross

AAP
15/02/2014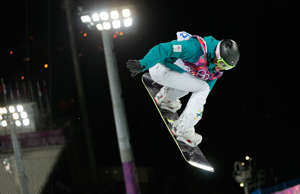 Two of the Australian Winter Olympics team's most outspoken athletes will have the chance to let their snowboarding do the talking when the women's snowboard cross event is run and done on Sunday.
Halfpipe silver medallist Torah Bright and Belle Brockhoff race the event, similar to motocross on snow where six athletes go head-to-head on a course that contains jumps and banked turns.
It's often quite chaotic and with only 24 people in the entire field, it is frequently open in terms of results.
Bright, who took on three snowboard events as these Games and only qualified for the cross event when other countries did not take up all their quota spots, has nonetheless improved rapidly.
She reached a semi-final at her last World Cup event and with the weight off her shoulders thanks to a medal already, she could surprise a few people.
"I am excited," said Bright, who hasn't been backward in challenging course builders and Australian and international officials before and during these Games.
"It has been a year journey for me from start to finish.
"There have been a lot of people who have sacrificed a lot of time to help me make this qualification for the Games.
"It's been character building. I have had to channel the inner fierce Torah to come out and the last races I did I felt it was all just clicking.
"Anything can happen in boardercross so I am just going to go out there and be fierce."
Brockhoff has been fierce in her own way.
The openly lesbian snowboarder has railed against Russian president Vladimir Putin's anti-gay laws and hasn't ruled out making some kind of protest after her event.
"After I compete, I'm willing to rip on his arse," she said last month.
"I'm not happy and there's a bunch of other Olympians who are not happy either."
Brockhoff has a World Cup podium to her credit and would be considered an outside chance of a medal.
The two Canadians, Maelle Ricker, the 2010 Vancouver medallist and current world champion and dominant World Cup competitor Dominique Maltais are the favourites for the event.