Frosting and Rimming: Dressing Your Glass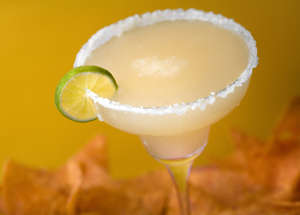 Garnishes aren't the only way to dress up a cocktail. Another fun way to accessorize is to put some flavor — and some pizzazz — on the rim of the glass.
"Salt or no salt" is a common question when ordering a margarita. But this isn't the only option, or ingredient, for rim décor. Sugar, cocoa, celery salt and even ginger also work great as top-of-drink accompaniments for all kinds of cocktails.
Before diving in, however, it's essential to adequately prep the glass by getting it nice and cold. Put it in the freezer ahead of time. Or, if you don't have time to spare, simply fill the glass with ice and add cold water to the rim. This will chill the glass surprisingly fast.
"Frosting is about two things: having the temperature of the glass keep your drink cold for longer … and sensory perception," says Alex Day and LA-based mixologist and co-owner of Proprietors LLC. "Holding a cold glass and putting the chilled rim to your lips is powerful instrument in suggesting the drink is very cold."
Once the glass is ready, it's time to moisten the rim. Use either a piece of fruit that's compatible with the drink, or a small dish or water.
"For example, if you're going to salt the rim on a margarita glass, take a lime wedge and slide it around the rim of the glass to dampen it with lime juice," says Mike Lewis owner and bartender at Seattle's Streamline Tavern. "Have a small flat dish with a thin layer of salt handy. Invert the rim of the glass into the salt and voilà!"
Hint: Use kosher salt. And don't get the rim too wet or even the big kosher kernels will get soggy. Also, be sure to moisten the rim on the outside of the glass so as not to get granules in the cocktail. Tap the bottom once you're done adding the rim ingredient. If you've done it correctly, the rim addition should only stick to the outside of the glass.
Creative Rim Accessories:
Celery Salt – Great for Bloody Marys
Cocoa – Perfect for chocolate martinis
Ginger – Adds oomph to fruit martinis like pear or apple
Edible Cake Decorations – Gold and silver flakes, for example, add color without complicating flavor.
Jell-O powder – A fun addition to Jell-O shots
Sugar – Adds some sweet to sour drinks like lemon drops
Graham Crackers / Cookies – Basically anything you can crush to a powder can ride on the rim.