Markets Live: Pre-budget sell-off?

Canberra Times
8/05/2014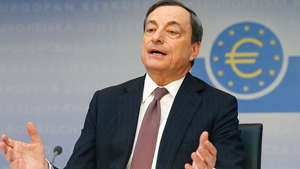 sadf
Good morning and welcome to the Markets Live blog for Friday.
Your editor today is Jens Meyer.
This blog is not intended as investment advice.
BusinessDay with wires.


Local stocks are expected to open flat, after a tech rally faded on Wall Street, while European markets soared after the ECB signalled action next month.
What you need2know:
SPI futures up 1 point 1t 5460
AUD at 93.68 US cents, 95.22 Japanese yen, 67.71 Euro cents and 55.34 British pence.
On Wall St, S&P500 -0.1%, Dow Jones +0.2%, Nasdaq -0.4%
In Europe, Euro Stoxx 50 +1.4%, FTSE100 +0.6%, CAC +1.4%, DAX +0.9%
Spot gold slipped 0.1 per cent to $US1288.62 an ounce
LME copper fell 1% to $US6655 a tonne
Brent oil dropped 0.1% to $US107.99 per barrel
Iron ore fell 1.3 per cent to $US103.70
What's on today
Reserve Bank's quarterly statement on monetary policy
News Corp third quarter results
Alumina annual general meeting
Stocks to watch
Goodman Fielder: Wilmar International and First Pacific have said they will walk away from their $1.27 billion takeover offer if Goodman Fielder proceeds with a plan to sell its New Zealand dairy business.
Envestra: Hong Kong's Cheung Kong Infrastructure has emerged as a last-minute counter-bidder to APA Group for Envestra, just days before shareholders were due to vote on APA's $2.1 billion scrip takeover offer.
Baosteel and Aurizon's $1.42 billion lunge for Aquila Resources may be rejected within the week, fuelling hopes the Chinese-led consortium will return with a higher offer, The Australian Financial Review reports.
Here's more
ECB chief Mario Draghi has primed investors for action next month.
With the threat of deflation still stalking euro-area economies that are barely out of recession, the European Central Bank president all but committed himself to providing further stimulus at June's monetary policy meeting.
After keeping rates at record lows overnight, Draghi told reporters that the 24-member Governing Council is "comfortable with acting next time". He underscored that position with comments showing a heightened concern that a rising euro will depress prices and derail the recovery.
"I don't see how Draghi can escape some kind of action after this pre-commitment," said Frederik Ducrozet, an economist at Credit Agricole in Paris. "He might surprise us with the type of action he takes; not with the timing any more."
Draghi's remarks sent the euro and money-market rates plunging, but boosted European stocks, as investors bet the ECB will deliver on its long- standing pledge to act if needed. The comments were reminiscent of his predecessor, Jean-Claude Trichet, who typically signalled rate increases, though not reductions, a month in advance using the phrase "strong vigilance".
"One might suggest that there is an ostensible drift back to the old days of Trichet-style communication," said Marc Ostwald, strategist at Monument Securities in London. "It is now nigh on impossible for the ECB not to act in June."
While Draghi gave no sign that the radical option of quantitative easing is imminent, the path of the euro and new economic forecasts next month may provide the rationale for the unprecedented step of negative interest rates.
Howard Marks, the founder of Oaktree Capital, has warned investors about a market correction as indiscriminate investors chase higher returns in riskier investments.
Marks, one of the most widely followed investors in the world, made his name from investing in distressed-debt.
He said the current environment, where corporate debt spreads at reached historic low yields, was a red-flag.
"There's a lot of risk in the world today and the risk comes from the behaviour of participants," he said at a New York Society of Security Analysis conference commemorating investment writer Ben Graham's 120th birthday. "One of the fluctuations [in market conditions] is the ability to do stupid things.
"When the market crashes bad companies cant issue debt. That's a hallmark of a crisis. When the market came back, after the crisis, only the best companies could issue but today anyone can issue debt," sad Marks.
Marks founded Oaktree Capital, which manages $US83 billion of investments including a stake in Nine Entertainment.
He said that policymakers had done a great job to encourage risk taking in the market, by lowering interest rates but it had consequences.
"It forced people up the risk curve. It was beneficial to the economy but there is so much reaching for yield that the world has become hospitable for risk, and that's something we should keep in mind."
Marks however said conditions weren't at the point to justify sitting on the sidelines.
"I don't think the outlook is so bad that we should refuse to buy but we should be cautious."
Read more
JB Hi-fi plans to launch an on-market share buyback totalling 1.4 per cent of the company or $27 million.
The electronics retailer said the buyback would offset the dilutionary effect of new shares issued in the 2014 financial year from employees exercising share options.
The company plans to complete the buyback no later that May 26 this year. It said it would only acquire shares at ''such times or circumstances as it considers beneficial to the efficient capital management of the company''.
''The buyback is therefore dependent upon market conditions, volumes and other relevant factors,'' the company said in a statement to the ASX.
Rupert Murdoch's News Corp has reported a 5 per cent decline in revenue to $2.08 billion for the third quarter, due largely to currency fluctuations and falling advertising sales in its news and information business.
The company's net profit plunged to $48 million from $323 million in the previous corresponding period, which was boosted by a non-taxable gain on a transaction.
News, which publishes The Daily Telegraph and The Australian newspapers, as well as owning half of pay television service Foxtel, posted earnings before interest, tax, depreciation and amortisation of $175 million, up by 4 per cent.
"The past quarter marked another robust stride in the direction of expanding our digital and international businesses, which was the goal we articulated on our investor day last year," News chief executive Robert Thomson said.
The company also appointed William Lewis as chief executive of Dow Jones, after he was given the role on an interim basis in January.
Envestra shares have surged after a last-minute $2.37 billion bid by a Hong Kong conglomerate led by Asia's richest man triggered the prospect of a bidding war with local gas pipeline major APA Group.
The approach by Cheung Kong Group, which is offering $1.32 per share in cash, came just days before shareholders in the gas distributor were due to vote on APA's $2.1 billion scrip-based offer.
The approach means Envestra's two largest shareholders are now vying for majority control of the company, which owns about 23,000 kilometres of gas distribution networks serving over 1.2 million customers, mostly in South Australia and Victoria. Cheung Kong is run by Li Ka-shing, whose net worth is estimated at about $US31 billion and is considered one of the most powerful figures in Asia.
Envestra shares have jumped as much 21 per cent to $1.365 as investors bet on APA upping its offer. They are currently up 18.8 per cent. APA shares have slid 2.3 per cent to $6.68.
APA's scheme of arrangement to take full ownership of Envestra, which valued the target at about $2.1 billion, appeared doomed to failure because of resistance by Cheung Kong, whose two representatives on the board had recommended shareholders vote against the deal. The Hong Kong company's 17.6 per cent stake in Envestra was large enough to be able to block the APA takeover.
There is no doubt global markets are starting to position themselves for a shift away from high growth into defensive plays, IG's Evan Lucas notes:
The breakdown in high price momentum stocks like Tesla, Amazon, Twitter, E*TRADE coupled with the falls seen in LinkedIn and Yahoo in the last eight weeks are signs that the US is looking to safe-guard profits and that a new thematic of trade is brewing – the return of capital.
This is an interesting dilemma for Australian investors in Australian stocks; the return of capital trade has been the trade for last three years. The development of this in the US suggests that the carry trade from the US and Japan is likely to continue to support the dividend players, despite the fact they are on the limiter on yield metrics.
If the RBA does flick the switch on rates over the coming months, this trade is likely to fade as Australian bonds look very attractive and an increased yield will pull yield hunters out of equities; foreign investors are also not entitled to franking credits, which is a double hit and  an area to watch.
Here's a quick preview on the RBA's Statement of Monetary Policy, which will be out at 11.30am.
What's been interesting is to see some surprise in the recent economic data - namely a softer-than-expected inflation print, as well as further signs that the jobs market could be on the mend. At the same time, the Australian dollar has remained resilient and is still one of the best-performing G10 currencies against the US dollar this year.
As such, the RBA will have quite a few issues to touch on in its quarterly report:
Inflation
Economists say they expect the central bank to revise downwards its inflation forecasts after the first-quarter CPI figures came on within the RBA's target band. The RBA has already noted in its board meeting statement on Tuesday that subdued wages growth in feeding into the inflation numbers and keeping it in check.
The current RBA forecasts (from the February SOMP) for headline inflation are 3.25 per cent for year-ended June 2014, 2.25 to 3.25 per cent for the year-ended December 2014 and June 2015.
Housing
The RBA has kept its rhetoric on the housing market fairly similar over the past few months, warning households about asset price rises and noting that the boom would feed through into construction and other sectors.
Labour market
The RBA and its governor Glenn Stevens previously said that they expected the unemployment rate to peak in late 2014 or early 2015. Yet the data released on Thursday for April was better-than-expected and maintain the 5.8 per cent jobless rate from March. The RBA already signalled that it was slightly more optimistic about the labour market in its Tuesday board statement.
"We expect [the RBA] will characterise the recent data as likely to be overstating the underlying improvement in the labour market, just as the earlier data had perhaps overstated the weakness," ANZ economists Felicity Emmett and Riki Polygenis write in a note.
"Any change to the discussion around the RBA's trajectory for the unemployment rate would be particularly important."
Australian dollar
Will the RBA start its jawboning on the local unit again now that inflation is not standing in the way? Economists are mostly saying no, so it's not likely (though possible) that the central bank will say too much about the exchange rate beyond its recent comments that it is at historically high levels.
The local sharemarket has opened lower, taking its lead from a late sell-off on Wall Street and choosing to ignore the rally on European markets in the wake of the ECB signalling more easing.
The benchmark S&P/ASX200 has fallen 25.1 points, or 0.5 per cent, to 5451.7, while the broader All Ords has lost 22.4 points, or 0.4 per cent, to 5433.5.
Among the sectors, materials are down 0.7 per cent, financials have lost 0.6 per cent, while energy stocks are flat.