No assault if Jurrah was still playing AFL: Demetriou

ABC News
9/05/2014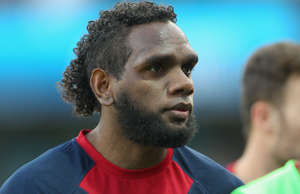 AFL chief executive Andrew Demetriou says it is less likely former Melbourne player Liam Jurrah would have broken the law if he was still playing in the league.
Jurrah was yesterday sentenced to at least three months jail for assaulting his wife in Alice Springs, less than a year after he was jailed for a similar offence.
He was handed a five-month jail term suspended after three months, and will undertake alcohol rehab treatment.
Demetriou has told Fairfax Radio the code remains in contact with Jurrah.
The outgoing AFL boss - set to be replaced by Gillon McLachlan in early June - denies bringing Jurrah to Melbourne has contributed to his problems.
"If Liam Jurrah was involved in football, playing football, in a football club environment and in the game itself, he would have had less likelihood of getting into trouble. That's my genuine view," he said.
Yesterday the Alice Springs Magistrates Court was told that Jurrah became involved in an argument with his wife while drunkenly celebrating victory in a local football grand final late last month.
The argument escalated and Jurrah kicked down a door, punched her twice in the face and kicked her while she lay on the ground, the court was told.
In sentencing, Magistrate David Bamber criticised Jurrah for assaulting a woman less than a year after he was jailed for a similar offence.
Mr Bamber also slammed the football community for continuing to support a man who assaulted women.