Revealed: Why Jared Waerea-Hargreaves was dumped from the New Zealand Kiwis

Canberra Times
29/04/2014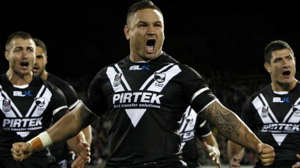 The failure to transfer his club form with Sydney Roosters to the Test arena is the reason for Jared Waerea-Hargreaves shock axing from the New Zealand team to play Australia at Allianz Stadium on Friday night.
While Waerea-Hargreaves is widely regarded as one of the best front-rowers in the NRL, statistics from the last two mid-season Tests against the Kangaroos and last year's World Cup campaign show he has not had the same impact in big matches for the Kiwis.
In fact, the 25-year-old has been New Zealand's least effective forward in his last three appearances against Australia and his performance in the Kiwis' last-gasp World Cup semi-final win over England was also below par, with Waerea-Hargreaves making just 56 metres from nine runs.
In the final at Old Trafford a week later, he ran 38 metres from seven carries of the ball and also made just one decoy run and one supporting run, as well as seven tackles in a 31-minute performance comprising of two stints of 14 and 17 minutes.
Waerea-Hargreaves has produced similar statistics from the past two mid-season Tests against Australia and was overlooked for selection for the end-of-season Test in Townsville.
By comparison, he managed well over 100m in the three pool matches of last year's World Cup against Samoa, France and Scotland and also made far more decoy and supporting runs.
Kiwis coach Stephen Kearney has refused to discuss the reasons for Waerea-Hargreaves axing but told media on Monday: ''We picked the side on form and picked the side with the future in mind''.
Players in both teams have expressed shock at Waerea-Hargreaves' omission. His dumping from a team already hit by the unavailability of up to 15 players due to injury led to questions about whether he was involved in the controversy over members of the World Cup squad mixing sleeping pills and energy drinks.
Fairfax Media has been told by several sources that was not the case and Kearney has previously said that the Kiwis had moved on from the World Cup drama and no player would be overlooked because of the incident after the quarter-final win against Scotland.
Sydney Roosters chief executive Brian Canavan said the club would not seek an official explanation for why Waerea-Hargreaves and Frank-Paul Nuuausala had been dropped from the Kiwis.
''Whilst we are very disappointed for the boys that have missed out, it is a representative selection issue and I think it would be between their representatives and coach and Jared to give an explanation,'' Canavan said.
''I do know that our boys were very, very disappointed. They are very happy for the other two boys naturally but disappointed. Jared is rated very highly in our place, as is Frank-Paul.''
Roosters teammate Boyd Cordner, who will play his second Test for Australia, has spoken to Waerea-Hargreaves and said he was shattered by his axing. ''I spoke to Jared and the boys and they are a bit disappointed,'' Cordner said. ''I am not the only one surprised that they didn't get picked. I love playing with Jared and I would hate to play against him, so from that point of view it is a good thing.
''There was talk of Jared being one of the best front-rowers in the comp and I know a lot of other people are shocked as well. But I am not a selector and the Kiwis have picked a lot of players in form so they will be tough.'' 
Opponent.    Date.       Runs.  Metres.  Tck Brk.  O/loads.  Decoy.  Supp tackles Errors  Pens
V Australia   20/4/12.       4.        36.         -           -                1         -           4.        -         -
V Australia.  19/4/2013.   8.        56.         2.         2.               1.         1.         6.       -         -
V Samoa.   27/10/13.    18.      162.         -           1.              4.           3.      16.       1.        1
V France.     1/11/13.      13.     129.         -           3.              3.           -         10.     -          -
V Scotland. 15/11/13.     16.     135.         4.         3.             10.          3.       13.      1.        -
V England.   23/11/13.      9.       56.         -           -                 5.          2.         9.      2.        -
V Australia   30/11/13.      7.        38.        -            -                 1.         1.         7.       1.       1  
Source: Sportsdata