Sacking from Penrith still in Eel of steel Joseph Paulo's mind

Canberra Times
26/05/2014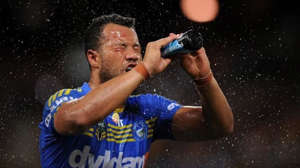 Parramatta forward Joseph Paulo says even though it has been three action-stacked years since he was sent packing from Penrith, he'll be determined to, once again, try to prove a point when he plays against his former club on Friday night.
Paulo has achieved plenty since he played the last of his 30 top-grade games for Penrith midway through 2011. He has been a big part of Parramatta's great revival this season, and he showed his leadership qualities last year when he captained the US to a surprise World Cup quarter-finals appearance against eventual champions Australia .
However, ask the 26-year-old, who was born in New Zealand but raised in Blacktown, to describe his intent before any match against the Panthers and he can't hide the fact there's a deep-seated "feeling''.
"They obviously didn't want me," Paulo said. "You can see they also didn't want all of the players I played with ... they were looking for someone new and fresh, I guess.
"Every time I play Penrith, there is definitely something inside that's just a tough spot for me. I've obviously embraced Parramatta and, while I haven't ever looked back, I do look over my shoulder to see how Penrith is going but, I'm really enjoying my time at Parramatta."
Paulo, who said earlier this year that he didn't know the words to the Eels' victory song because Parramatta wins before this season kicked off were so infrequent, has played an important role in not only helping the club sit in fourth place on the premiership ladder but in developing a new culture.
"[Coach] Brad Arthur is a very tough man and he's definitely created that culture for us,'' Paulo said of the transformation from wooden-spooners to Eels of steel. "We set a high standard but, at the same time, we're being tough with it.
"We've all tried to embrace what Brad is trying to do with this club and, halfway through the season, it's working for us. We know we have a long way to go but we've got to keep working hard."
While Paulo would be fuelled by a determination to make the old Penrith officials lament the day they punted him down the M4, his 19-year-old partner up front, and a fellow member of the Patrician Brothers' College Blacktown alumni, Pauli Pauli, said his rookie season was still a time of wide-eyed wonder.
 "I don't know what to expect against Penrith, I just worry about my own thing," he laughed. "But, I'm always happy, there's no pressure on me and I don't let anything put pressure on me."
However, he said that does not mean he's taken his place in top grade for granted.
"You can be a superstar in the under 20s and NSW Cup but when you make first grade it's all about hard work and effort," he said.  "It's tough for me as a young fella to stay in the team because there's plenty of players in the NSW Cup trying to climb up and get their spot."