Second 'sinkhole' opens up near Newcastle

ABC News
28/05/2014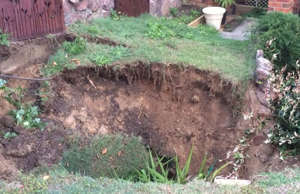 A large hole has opened up in the front yard of a house at Lake Macquarie near Newcastle, the second hole to be discovered since last night.
Pictures of what has been described by police as a "sinkhole" on Lambton Parade at Swansea Heads emerged on social media this morning after the first one was discovered about 7pm (AEST) yesterday in the same street.
ABC reporter Amanda Astri was at the scene and says the Mine Subsidence Board is assessing the latest hole, which is just a few metres wide.
"There's apparently some sort of tunnel that runs along the road under the house and goes for about a kilometre up, and it was used for mining coal," she said.
Dennis Thompson's house is right in the middle of the two homes that have sink holes. He says it is quite a shock.
"We've never had a problem here in the past, even when we had the earthquake there was very little damage done out here," he said.
The first hole opened up underneath a three-storey home, forcing residents inside to evacuate.
Emergency crews were called when neighbours noticed the hole had caused the front corner of the house to sink, extensively damaging the property.
That hole is about 15 metres wide and 10 metres deep and is believed to be a disused mine shaft.