Set the mood for the Rio Olympics with these handy apps

Photos
18/04/2016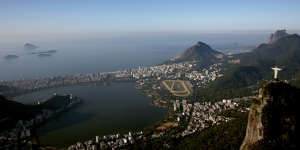 © Matthew Stockman/Getty Images The Rio Olympic Games are fast approaching, and you don't want to miss out on the action! Whether you are lucky enough to have scored tickets and are heading to Rio or are planning to watch the event from the comfort of your home, we have all the apps to bring Brazilian culture straight to you. Have a look at our top picks to get into the Carioca mood.
Duolingo
Need help getting your language skills up to speed for Rio? Great news for students of Portuguese: Duolingo has it covered. Lessons are presented as mini games, making them fun and easy to squeeze in whenever you have a spare moment to learn.
So Cookbook
A useful reference for anyone in the kitchen, So Cookbook's database of recipes is pulled from a multitude of cookery sources. It's easy to search by ingredient or browse by category to find a detailed recipe to try out. Save and store the recipes you like into your own personal cookbook, making it a snap to find then again for future meals. Get into the mood and enjoy something delicious and Brazilian as you watch the Games.
TripAdvisor
A great resource for all things travel, TripAdvisor collects traveller reviews from all around the world to help you choose the perfect flight, hotel, restaurant or activity for your trip. With over 250 million reviews, you can rest assured that your choice has been experienced and reviewed! If you are lucky enough to be in Rio for the action, TripAdvisor will be indispensable as you make your way through the city.
App Radio
Perhaps you'd like to hear the local music to really get into the Rio spirit. Access Rio radio stations with App Radio and rock out to the latest tunes.