Simple Steps for Making Sugar Syrup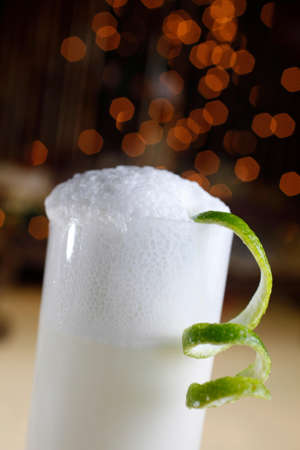 When you hear "sugar syrup" don't let your mind default to images of cloying pink cocktails that leave your fingers sticky and teeth fuzzy. Sugar syrup does make an appearance in fruity daiquiris and other umbrella-adorned rum drinks. But sugar syrup also runs with the big dogs. It adds a pinch of sweetness to whiskey-based drinks like an Old Fashioned, or a sugared kiss to a puckered Gin Fizz.    
The syrup, also called "simple syrup," is made by dissolving sugar in water. By using syrup rather than spooning sugar into the drink, you get a more precise and uniform sweetness and the crystals of sugar won't sink to the bottom of the glass in a gritty sludge. Most cocktail recipes call for a syrup that is equal parts sugar and water, but you can boost the sugar-to-water ratio to make a thicker, more full-bodied syrup.
Sugar syrup, simply made:
Hot water: Measure one cup of water and pour into a sauce pan. Heat to boiling.
Pour some sugar: Measure one cup of sugar and add to the water. Reduce the heat to a simmer (you don't want to boil the mixture).
Dissolve the sugar: Whisk the sugar-water mix until the sugar fully dissolves.
Cool it: After the syrup cools, you can refrigerate it for up to a month.
Feeling bolder? For bonus points you can boost the level of difficulty and tastiness of your simple syrup by swapping in different kinds of sugar or adding flavorings.
Try a natural brown sugar, which comes from raw sugar cane juice and contains molasses. It comes in exotic-sounding varieties including turbinado, demerara and moscavado. Or take a couple of spoonfuls of zest from the skin of a lime, lemon or orange, some sliced fresh ginger, a vanilla bean sliced lengthwise, or two cinnamon sticks and add that to the syrup. Simmer the mix for about five minutes, cool and then strain the syrup.
Experimenting with simple syrup or a tricked-out riff on the basic recipe can bring a little balance to a bitter or sour libation, and who doesn't need a nip of sweetness now and then?