Stay connected with the best social apps

Photos
20/04/2016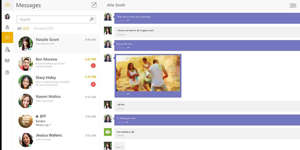 © ooVoo LLC Discover apps that work for you by keeping you connected to who and what you love. Connect with your friends, find interesting news and speak to your followers with these essential social apps.
Facebook
An app for everyone, stay current with your friends and family with Facebook! Post photos and videos about your life and keep up with what everyone else is doing by scrolling through your news. Stay in touch with new friends by adding them to your network.
Twitter
Send news with a tweet! Twitter sends your thoughts out to your followers and you can stay informed by following your favorite people.
ooVoo Video Call, Text and Voice
ooVoo Video Call, Text and Voice
Keep in touch with your loved ones in real time by making video and voice calls and text messages for free! Conversation history and high quality audio and video make this app perfect for all your communication.
StumbleUpon
Customize your internet experience by trying StumbleUpon. There are over 500 different interests to explore, and each will pull up a plethora of articles and videos to entertain! You can also search for specific interests by entering a keyword or phrase and share what you discover with your friends.