Summer - Cilantro
DK Publishing
2/07/2014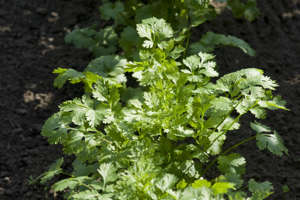 Cilantro

When to pick
Pick cilantro when it is young and before the leaves start to yellow or become too large. If growing for seeds, leave the flower heads to dry on the plant before harvesting.
Eat and store fresh
Keep cilantro in a glass of water, in or out of the fridge, or wrapped in damp kitchen paper in the fridge for 2–3 days. Use fresh whenever possible.
How to preserve
Use cilantro in a pesto and store in the fridge for up to 2 weeks. Alternatively, dry the leaves flat or hang them to dry for 2 weeks, then store in sealed glass jars for up to 6 months .
Freezing options
Freeze in a herb butter or by adding oil and putting into freezer bags, or by freezing in ice cubes.