The Rhône Valley - Wine Map of the Rhône Valley
DK Publishing
2/07/2014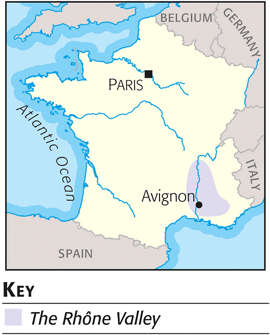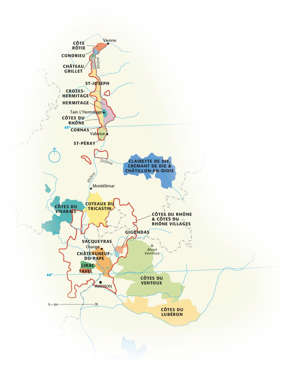 View across the Rhône River to Tain L'Hermitage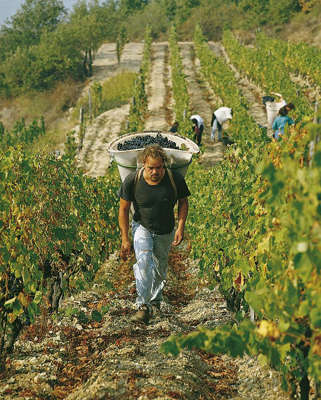 Carrying Syrah grapes in the Northern Rhône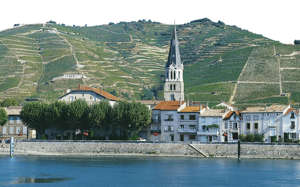 Wine Map of the Rhône Valley

The vineyards of the Northern Rhône trace the course of the river from the town of Vienne south to Valence. In descending order, Côte Rôtie, Condrieu, Château Grillet, St-Joseph, Cornas, and St-Péray hug the left bank, while Hermitage and Crozes-Hermitage are located on the right. About 60 miles (100 km) separates these Northern Rhône AOCs from the southern group of Châteauneuf-du-Pape, Gigondas, Vacqueyras, Lirac, and Tavel situated just to the north of Avignon. In between are the lesser-known districts of the Coteaux du Tricastin and Diois east of the river in the Drôme département, and Côtes du Vivarais to the west in the Ardèche. The Côtes du Ventoux and Côtes du Lubéron are ranged to the southeast of Avignon in the Vaucluse.
Northern Rhône: Areas & top producersCôte Rôtie
Domaine Clusel Roch
Domaine Jamet
Guigal
Condrieu
Domaine André Perret
Domaine Georges Vernay
Domaine Yves Cuilleron
Crozes-Hermitage
Domaine Alain Graillot
Hermitage
Delas Frères
Domaine Jean-Louis Chave
M Chapoutier
Paul Jaboulet Aîné
Cornas
Domaine Clape
Southern Rhône: Areas & top producersGigondas
Domaine Raspail-Ay
Vacqueyras
Domaine de la Monardière
Châteauneuf-du-Pape
Château de Beaucastel
Château la Nerthe
Château Rayas
Clos des Papes
Domaine Bois de Boursan
Domaine Bosquet des Papes
Domaine de la Janasse
Tavel
Château d'Aquéria
Côtes du Rhône & Côtes du Rhône Villages
Domaine La Réméjeanne
Domaine Marcel Richaud
Perfect case: The Rhône valleyTerroir at a glanceLatitude:
43.5–45.5°N.
Altitude:
0–450 m.
Topography:
The north is fairly rugged terrain with steep schistous slopes rising to a plateau 350 m above the valley floor. The prime vineyard sites offer southerly or southeasterly exposure and shelter from the northerly winds. The south varies from sun-scorched alluvial river plain to the later-ripening limestone-and-clay slopes that rise to around 450 m.
Soil:
Granite, schist, sand, flint, chalk, mica, clay.
Climate:
The north has a classic continental climate of hot summers and cold winters with clearly marked seasons: ideal for Syrah, which requires less intense heat. Cool, dry northerly winds and warmer, rain-bearing southerlies blow intermittently through the year. The climate of the south is pure Mediterranean, with hot, dry summers and winter rain, good for varieties like Grenache and Mourvèdre that like the heat.
Temperature:
July average is 72°F (22.5°C) in the north and 74°F (23.5°C) in the south.
Rainfall:
Annual average is 600–650 mm.
Wind:
In the south, the mistral wind aids ripening.
Viticultural hazards:
Fungal disease; hail.