Top Twitter, Facebook and Instagram apps on Windows 10

Photos
16/12/2015
Get social with Tweetium and other featured apps.
Twitter has never looked better than in this premium Windows Twitter app. With a slick, clean layout (that can be customized), enjoy browsing your Twitter feed with large, beautiful images. Designed with feedback from serious Twitter users, the easy navigation at the top of the app allows you to switch effortlessly between tweets from people trying to connect with you, messages, and trending topics.

Pay just $3.49 for the fully featured Universal app with support for one Twitter account at a time. Or pay a bit more for the Pro account and manage up to seven accounts at once, with added features such as push notification, a richer Connect view, TweetMarker sync and integrated news reading.
---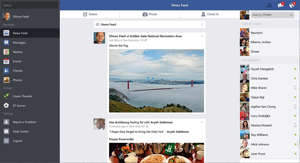 The official app from Facebook syncs up perfectly with your online account. Side navigation allows easy access to your News Feed, Messages, Events, Photos, Groups and more. Intuitive to use, this app is a must-have for any Facebook aficionado.

---
This top-rated unofficial Instagram app includes a large suite of photo editing tools with filters that allow you to adjust brightness, saturation, contrast, etc. The front page allows you to easily scroll through various sections including your timeline, the most popular images, and an activity log. Further functionality includes the ability to search through the app, upload media from your device and even to take a photo while still in the app.