Women's cricket stars to cash in with international tournament

Sydney Morning Herald
29/04/2014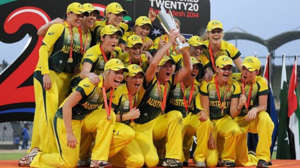 Australia's world champion Southern Stars are set to cash in as part of a plan to revolutionise the women's game, with players to have their incomes doubled in some cases by featuring in a new Twenty20 tournament to be held in Singapore.
The likes of Meg Lanning, Ellyse Perry and Alex Blackwell are being lined up to star in the inaugural Women's International Cricket League, which will pay top players up to $40,000 each for a six-team competition to be played over 10 to 12 days.
The numbers pale in comparison to the millions the men can earn in the Indian Premier League and other T20 competitions around the world but are significant given what women cricketers currently pocket.
Australia's women received a landmark pay rise last year but the 14 centrally contracted players still earn only $25,000 to $52,000 plus match payments, while those with state deals are on $2500 to $7000 a year not including match fees. Elsewhere, the situation is no brighter. South Africa's captain Mignon du Pree is understood to be paid only $1000 a month by her governing body.
The new league, the brainchild of former Southern Stars all-rounder Lisa Sthalekar and business partner Shaun Martyn, hopes to change the landscape of the women's game.
''Some of our tier-one players for the tournament will earn $30,000 to $40,000,'' Martyn said. ''And that's only in year one. We have to move that salary cap up each year as we grow the business.
''What we're trying to do is create an opportunity for women that they don't have. We want to be able to say to young girls around the world 'There is actually a career pathway here.'''
While Cricket Australia continues to discuss a women's version of the Big Bash League - the subject is expected to be on the agenda at a CA board meeting in Melbourne later this week - the WICL is pressing ahead for a proposed launch as soon as this year.
Under the business model the league's six teams will be privately owned, with the WICL in final negotiations with franchise owners from Australia, the United States and India. Discussions have also taken place with British broadcaster BSkyB and Star Sports in India about television coverage.
The league will feature 78 of the world's leading players. ''We'll offer letters of participation to probably the top 30 or 40 ranked T20 players,'' Martyn said. ''Then we'll have some spots that are open for people to apply and then we've got got a place in each team reserved for a player from an emerging nation ... China, Japan etc, so we can develop the players from those countries.''
The concept has the backing of the ICC, boards including CA and the players' unions.
''We think it's a terrific initiative for women's cricket and cricket in general,'' said Paul Marsh, who heads the Australian Cricketers' Association and the Federation of International Cricketers' Associations.
''And I know having spoken to a number of the players they're also very excited by what lays ahead.''