5 Nutrition Tips for a Healthy Mouth

U.S. News & World Report
20/06/2015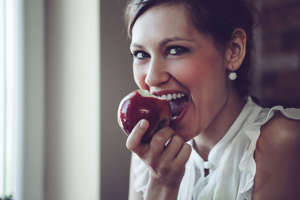 © iStock/Getty Images I recently talked to a group of beauty editors at an event in New York City for DenTek, an oral care products business out of Tennessee. You might wonder what the connection is between beauty and our mouths, but if you really think about it, it totally makes sense: The first thing someone sees when they meet you is your smile.

When I was asked to speak at the event, I thought to myself, "Hmm, I totally agree with how important a smile is, but I am not an expert on oral health, unless being married to an oral surgeon counts – and oral surgeons like to pull teeth, not save them!" (OK, my husband hates that joke – oral surgeons do way more than just pull teeth).
In any event, what I am an expert in is nutrition. And I thought about the saying, "We are we eat," and how it resonates in so many ways. How we feel, how we look and our overall health can really depend on what we put in our mouths. So it really isn't surprising that what we put in our mouths can also literally be good for our mouths – in addition, of course, to regular visits to the dentist, daily brushing and flossing.
Ongoing research indicates that antioxidants and other nutrients found in many of the foods we eat may help strengthen our immune system and improve the body's ability to fight bacteria and inflammation, all of which can help protect the teeth and gums. So when it comes to oral heath, today's nutritional approaches go way beyond "don't eat sugar."
Here are five tips for a healthy mouth:
1. Choose vitamin C. 

© GARO/phanie/Phanie Sarl/Corb The antioxidant vitamin C, found in oranges, strawberries, tomatoes and numerous other fruits and veggies, may help protect gums and other tissues from cell damage and bacterial infection. Vitamin C also plays a role in the production of collagen, which could help maintain your gums' strength and integrity.
2. Dine on dairy.
Low-fat yogurt, low-fat milk, cheese and other dairy products are rich in calcium and vitamin D, and may help promote healthy teeth and bones, reducing the risk of tooth loss. Calcium, specifically, helps protect your teeth against periodontal (gum) disease, and vitamin D is needed to help your body absorb and use the calcium. 
3. Enjoy it raw.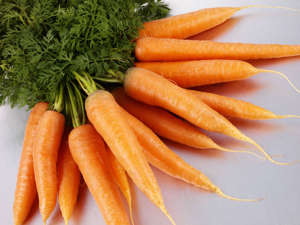 © REX/Food and Drink Crisp fruits and raw vegetables, such as apples, pears, carrots, peppers and celery, help clean plaque from teeth and freshen breath. Supposedly, the high water content stimulates saliva, which helps to wash away food particles. But please don't misconstrue – I am not suggesting a raw food diet. That's a conversation for another time.
4. Go dark.
As in dark green leafy vegetables, such as broccoli and spinach. Peas and asparagus are great choices too, even though they technically aren't leafy, since they contain folic acid, which may promote a healthy mouth by supporting cell growth and cell repair throughout the body.
5. Drink up.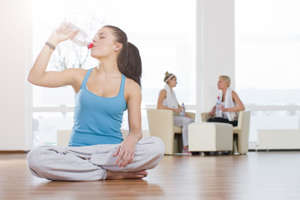 © REX/WestEnd61 With water (or unsweetened black or green tea), that is. Water helps produce saliva, which could possibly be your mouth's best defense against tooth decay because it contains proteins and minerals that may counteract enamel-eating acids. Tea contains a compound called polyphenol, which research has shown may slow the growth of bacteria associated with cavities and gum disease.
Bottom line: Keep it simple. By that I mean focus on a well-balanced diet versus individual nutrients. Eat plenty of fruits, veggies, whole grains (such as oatmeal, quinoa and 100 percent whole-wheat bread or pasta), low-fat dairy, lean protein (such as fish, sirloin and skinless poultry) and healthy fats (such as avocados, almonds and olive oil). Oh, and definitely still brush and floss daily!
More from U.S. News & World Report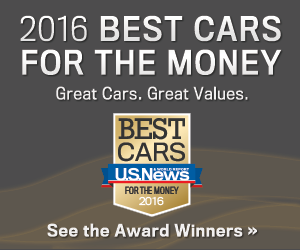 U.S. News & World Report