Acupuncture has big pain benefits

Cover Media
3/01/2016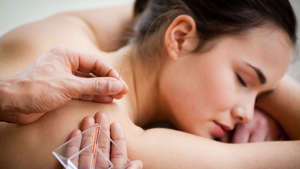 Acupuncture really can reduce pain, says a new study. 
Acupuncture uses fine needles inserted into the skin at specific points along lines of energy. The practice has been used in Chinese medicine for thousands of years and can help both physical and mental conditions.
While some people are devotees of the alternative medicine, others shrug it off as nonsense. However a new US study has found evidence that acupuncture really can reduce stress, pain and even depression.
The research looked at the effect of acupuncture on rats that had been exposed to extreme cold on numerous occasions. This was intended to mirror the effect of people suffering with ongoing mental pressure, including grieving. 
Some of the rats were inserted with needles in their stomachs, in a place thought to have powerful healing properties in Chinese medicine. Others had needles stuck in elsewhere, and some did not have any.
Results showed the rodents who had had the needles in the stomach were the only ones to see a decrease in the levels of stress hormones. These rats also showed fewer signs of depression and anxiety.
Lead author Ladan Eshkevari, of Washington DC's Georgetown University, has explained her findings.
"The benefits of acupuncture are well known by those who use it, but such proof is anecdotal.
"This research, the culmination of a number of studies, demonstrates how acupuncture might work in the human body to reduce stress and pain, and potentially, depression," she said.
Results have been published in the journal Endocrinology, and Dr Eshkevari is now hoping to carry out a similar trial in humans.
The acupuncture used during treatment is dependent on the ailment, and sessions also differ for men and women.
"It can be quite slow but accumulative, with men we advise patients to be on acupuncture or herbs for three months depending on their main concern. For women, especially where menstrual issues are concerned, we ask patients to be on treatment for up to four months. That's because that's how long it takes for an egg to develop in the womb so the body metabolises accordingly," Theresa Velasquez of London's AcuMedic explained to Cover Media.