Going the distance: Record-breaking dives and swims

Photos
6/09/2015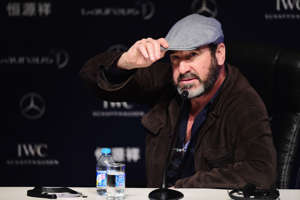 In a new advertising campaign for Kronenbourg beer, former Manchester United and France national team forward Eric Cantona appeared to swim the English Channel from the shores of France to Dover, England. While it was an interesting publicity gimmick, we take a look at some genuine record-breaking dives and swims that have created history.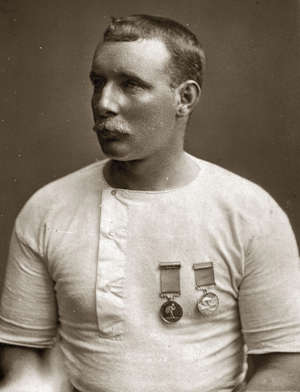 First to cross the English Channel
The English Channel, which separates England from France, was first crossed by Captain Matthew Webb on Aug. 25, 1875, in 21 hours 45 minutes. Webb left his job in the merchant navy to pursue swimming professionally. He made his first attempt of crossing the Channel on Aug. 12, 1875, which was unsuccessful. However, his next attempt made him the first person to cross the Channel ever. 
© AP Photo
First woman to swim across the English Channel
On Aug. 6, 1926, 19-year-old American swimmer Gertrude Ederle became the first woman to swim across the English Channel. Dubbed the "Queen of the Waves," she successfully completed the feat in 14 hours 31 minutes. However, Ederle damaged her hearing during the swim and spent her adult life teaching swimming to deaf children in New York City.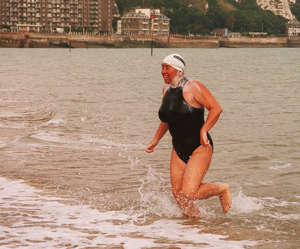 Most number of crossings of the English Channel
"The Queen of the English Channel" Alison Streeter has crossed the English Channel a record 43 times, a feat achieved by none other to date. She became the youngest woman and also the first British woman to do a double-crossing of the Channel in 1983, having swum 49 miles (79 kilometers) in 21 hours 16 minutes. Not only that, she completed a three-way crossing — 70 miles (112.6 kilometers) — in 34 hours 40 minutes in 1990, becoming the first woman to do so. Streeter also holds the record of being the first person to swim across the English Channel seven times in a year.
First and youngest relay team to cross the English Channel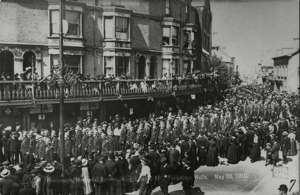 In 1968, six 12-year-olds from the Royal Tunbridge Wells Monson Swimming Club in Kent became the first and the youngest relay team to cross the English Channel. Making their way into the Guinness Book of World Records, they achieved the feat in 12 hours 45 minutes. (Pictured) The Monson Road Baths in 1901, which was the headquarters of the Royal Tunbridge Wells Monson Swimming Club. The club later moved to St. John's Road in 1974. 
Longest swim under ice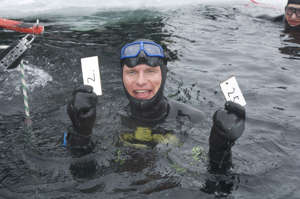 Denmark-born Stig Severinsen achieved the rare feat of completing the longest swim under ice in 2010. Wearing only his swimming trunks and goggles, the free diver swam 236 feet (72 meters) under ice. The record was previously held by Wim Hof, who swam 47.6 feet (14.5 meters) in 2000. 

Longest underwater swim – breath held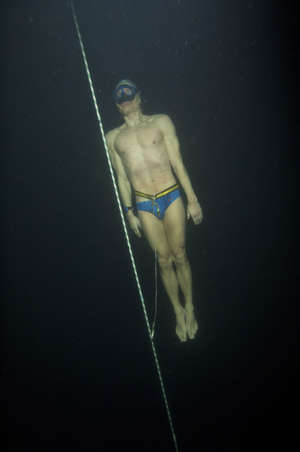 In 2013, Stig Severinsen set another record of completing the longest underwater swim with his breath held. Taking two minutes and 11 seconds, he swam 500 feet (152.4 meters) in Qaqortoc Lake, Greenland, wearing a wetsuit and monofin. The following day, he undertook the same act wearing only his trunks. He swam 250 feet (76.2 meters), thereby setting another world record. 
Longest open-water solo swim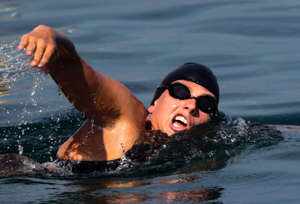 Chloe McCardel, a 29-year-old Australian swimmer, holds the record of completing the longest open-water solo swim. She completed 78 miles (125.5 kilometers) between two islands in the Bahamas in 42.5 hours in 2014. McCardel also achieved the feat of swimming across the English Channel seven times. 

Longest open sea swim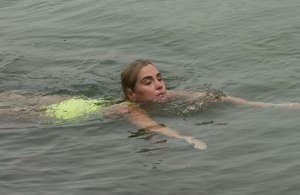 The Croatian long-distance swimmer Veljko Rogosic, who passed away in 2012, holds the record of having swum the longest distance in open sea. Taking about 50 hours 10 minutes, he swam 139.8 miles (225 kilometers) across the Adriatic Sea from Aug. 29  to Aug. 31, 2006, without flippers. (Pictured) Before Rogosic's attempt, Australia's Susie Maroney swam the longest distance without flippers in open sea — from Mexico to Cuba. It was a distance of 122 miles (196 kilometers) that took 38 hours 33 minutes to complete. 
Longest solo unassisted ocean swim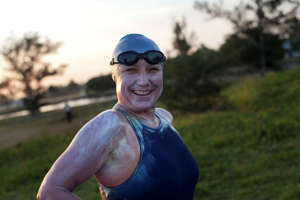 The Australian-British swimmer, and mother of three, Penny Palfrey is the current record holder of the longest solo unassisted ocean swim. In 2011, she swam 70 miles (112 kilometers) between the Grand Cayman and Little Cayman islands in the Caribbean in 40 hours 41 minutes, without a suit or a cage. 
Longest swim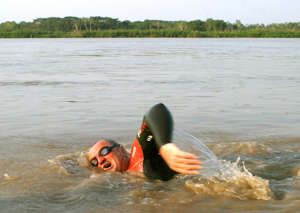 Slovenian long-distance swimmer Martin Strel became the first person to swim 3,272 miles (5,268 kilometers) of the over 4,000-mile-long (6,437 kilometers) Amazon River in 2007. Averaging about 50 miles (80.4 kilometers) a day, he completed the feat in 66 days, which was captured in the documentary "Big River Man." Interestingly, Strel did not swim any river till the age of 50.  
First to swim across the Atlantic Ocean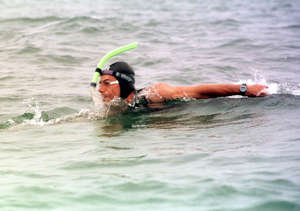 Way before Strel conquered the Amazon, French-born swimmer Ben Lecomte achieved the rare distinction of becoming the first person to swim across the Atlantic Ocean in 1998. He completed 3,700 miles (5954.5 kilometers) in 73 days, swimming for eight hours a day. Accompanying him was a crew of three on a sailboat, where he rested from time to time. He plans on swimming across the Pacific Ocean next, which will make it the longest swim ever undertaken. 
Unassisted free diving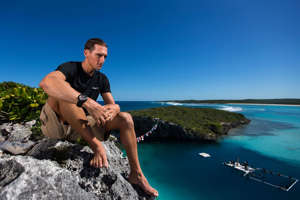 William Trubridge, a free diver from New Zealand, set a world record in unassisted free diving in 2007. Without any fins, ropes or weight belts, he plunged 269 feet (82 meters) into Dean's Blue Hole at three minutes and nine seconds. Dean's Blue Hole, located in Long Island, Bahamas, is the world's deepest blue hole and the second largest underwater chamber. 
Free diving for constant ballast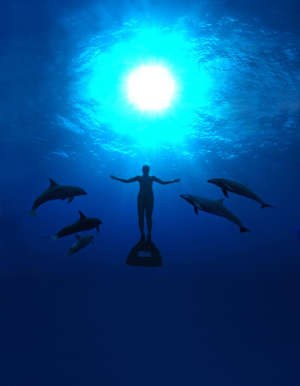 Canadian free diver Mandy-Rae Cruickshank, after remaining underwater for two minutes 48 seconds in the Cayman Islands, created a world record in free diving for constant ballast in April 2007. She reached a depth of 289 feet (88 meters) on a single breath. In the category of 'constant ballast,' divers go underwater and come back to the surface with weights using only their physical strength. 

Largest swimming race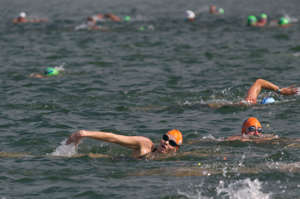 The Midmar Mile, one of the world's biggest open water swimming event organized in South Africa, set a world record in 2009. A total of 13,755 competitors finished the race, making it a Guinness world record for the largest swimming race ever. Four years later, it saw a participation of 14,755 contestants, which set a new world record.