I lost 14 stone after ditching my four litre a day fizzy pop habit

Mirror
11/09/2017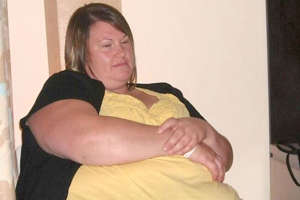 Years of bingeing on litres of full-fat fizzy drinks saw Kelly Fould's weight rocket to over 27st. At size 34, she couldn't get enough of her sugary fix, downing four litres of pop every day for 10 years – a massive 14,000 litres a year.

At her worst Kelly was consuming 342g of sugar and 1,260 calories a day from drinks alone.
What's more, her fizzy drink habit drained all her energy, so instead of cooking she relied on takeaway food.
Now, after ditching her pop habit – and giving her junk-food diet an overhaul – she's shed 14st (almost 90 kgs) and 10 dress sizes. 
Kelly, 38, says: "I was addicted to fizzy drinks and in the beginning I enjoyed the sugar rush they gave me.
"Then I became dependent and the thought of drinking anything else scared me. I must have spent thousands of pounds on fizzy drinks over the years.
"I had the same routine every day. I drank six small bottles of pop during the day and at night I'd get through a two-litre bottle, a family bag of crisps and at least three bars of chocolate.
"I'd hate myself for bingeing on rubbish so I'd open another bottle of pop to lift my mood. It was a vicious circle."
Kelly, who is now size 12-14 and weighs 13st 6lbs (almost 83 kgs), says her struggle with food began in her teens. Aged seven, she was diagnosed with Bell's palsy, a medical condition that caused the left side of her face to droop.
She started comfort eating and at 15 she was wearing size 16 clothes.
"I ate chips every lunchtime at school and although my parents cooked healthy stews or roast dinners, I ate huge portions", she recalls.
"When I was 13, I started drinking Sprite and I loved the taste. If I was feeling fed up, I'd buy a couple of bottles from the shop. The sugar gave me a pick-me-up.
"The Bell's palsy came back when I was 15 which knocked my confidence and self-esteem. I ate for comfort because I was so miserable."
By age 22, when she went to Derby University to study a business degree, Kelly was 27 stone (nearly 171 kgs).
"I was scared of the scales so I stopped weighing myself altogether during my course. I scoffed cakes, pizzas and drank fizzy drinks like they were water.
"Despite being morbidly obese I still didn't care enough to do anything about it," she says.
"Finding clothes to fit was a nightmare and I lived in tracksuit bottoms and baggy tops. When I graduated I was so big I had to wear elasticated trousers and a baggy shirt while most of the other girls wore dresses.
"I had another bout of Bell's palsy and didn't recover fully which really hit my confidence. I suffered with facial spasms and was in pain. Food made me feel better so I ate for comfort."
Kelly, who lives in Derby, found a job as a debt collector but working 13-hour days meant she didn't have time to prepare meals.
She says: "I filled my fridge with processed food which I could put in the oven when I got home from work.
"If I was working late, I'd call for a takeaway on the way back because it was easier than cooking.
"No one could see me slumped in front of the TV surrounded by chocolate wrappers and plastic bottles, so I convinced myself it was OK.
"I can't believe I used to go to the kebab shop in my lunch hour. I'd wash it down with two bottles of pop. Calling at the shop on my way home to buy more pop was as normal as buying eggs and milk."
When Kelly began suffering with back pain she saw her GP who got her to step on the scales.
Kelly says: "I was so heavy, my weight was off the scale. I was mortified because I had no idea how much I weighed at that point.
"The doctor wanted to know about my diet and I told him how much fizzy pop I was drinking. He explained how bad it was for my teeth, liver and kidneys, but he was more concerned about my weight."
Kelly was referred to a dietician and managed to lose 3st (almost 20 kgs).
"I was allowed to have one litre of pop a day instead of two and I lost a stone in a month," she says. "Over the next few months I stuck to it, but when I was signed off by the dietician old habits crept back in and the weight went back on.
"The turning point came when I struggled to walk to my local shop which was less than half a mile away. I felt as though I'd run a marathon. My back was agony and my knees ached.
"I had to change something."
In January 2010, a friend went to her first Weight Watchers meeting and asked Kelly along for moral support. I went with an open mind but I didn't really expect it to work for me," says Kelly. "It wasn't until I began losing weight easily that I felt the benefits and decided to stick to it.
"Getting on the scales was nerve-wracking but everyone was supportive which spurred me on. It made me realise I wasn't alone. I learnt about portion control and how important it is to have a healthy, balanced diet. My whole attitude towards food changed and I started to wean myself off the fizzy drinks.
"The first day was really hard because I felt bad tempered and anxious. I also had terrible headaches and insomnia.
"It was strange not having a bottle of Sprite in my hand. But as the weeks went on I started to feel better and I became addicted to losing weight instead.
"It took about three months to cut out fizzy drinks altogether."
Kelly shed 5lb in the first week of her diet and after a month she'd lost a stone. Within six months she was down to 21st (nearly 133 kgs).
"I replaced kebabs with tandoori chicken breasts and cabbage, and I made sure I weighed out everything I ate," she says.
"It was all about portion control and learning that a treat like chocolate should be an occasional thing.
"There was a blip along the way. I was under a lot of stress at work which caused my Bell's palsy to flare up.
"Pretty soon I'd put three stones back on. I was really disappointed with myself but I still went to my weekly weigh-ins because I didn't want to lose my focus."
Two years ago, Kelly, who is 5ft 6ins, managed to get back on track and has lost 14st (nearly 89 kgs) in total.
She says: "It was only when I threw out my size 34 trousers for a size 32, followed by a size 30, that I knew I could do it.
"Now, I take salmon or chicken with salad to work and if I have a stew in the evening, I weigh out the ingredients to make sure I'm not overeating.
"It hasn't been easy but even though I've been left with excess skin around my middle, it's a small price to pay. I've even taken up running for the first time."
Kelly is now in a relationship and says she's happier than ever.
"I never thought I'd find someone when I was overweight and my boyfriend is proud of me. When he saw photos of how I used to be he was shocked. I look like a completely different person.
"I'd never worn a dress in my life and now I've got five size 14s. It's an amazing feeling seeing them hanging in my wardrobe.
"I feel great and love going shopping for new outfits. I still have an occasional chocolate bar and I stick to vodka or brandy – but with diet coke – and I've never felt better."
WHAT KELLY ATE BEFORE:
BREAKFAST: Big bowl of sugary cereal or two slices of toast with butter
LUNCH: Kebab with chips, 1 litre bottle of Sprite
DINNER: Steak and chips or three helpings of stew, 1 litre bottle of Sprite
SNACKS: Two packets of biscuits, three slabs of chocolate, 2 litres of Coca-Cola
WHAT SHE EATS NOW:
BREAKFAST: Scrambled egg with turkey rashers and tomatoes, or porridge
LUNCH: Chicken breast with salad or small jacket potato and mince
DINNER: Chicken with vegetables and gravy
SNACKS: Weight Watchers crisps or fruit and a small diet Sprite