Incredible moment conjoined twins see each other for first time after operation to separate their heads

Mirror
24/11/2016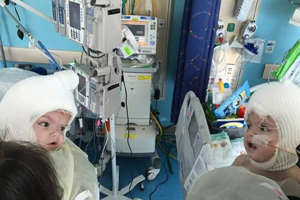 © Mirror Joined together by the head, for 13 months twins Jadon and Anias McDonald were never able to catch a glimpse of each other. 
Now after a life-threatening 27-hour operation they each stare opened mouthed after finally being introduced to their brother.
In October, the boys were successfully separated by surgeons at the Children's Hospital at Montifiore Medical Centre in New York.
After five weeks of historic recovery the boys are set to be moved into rehab before their eventual release from hospital.

The twins have had to overcome several set backs including infections, fevers, and seizures, but medics are "delighted" with their progress.

© Provided by Trinity Mirror Plc Credits: Facebook The previous record for such a recovery from craniopagus surgery, was eight weeks.
Surgeon Dr James Goodrich, the world's leading expert on twins conjoined at the head, said "Historically, this will be the fastest (recovery)."

Their mother, Nicole McDonald said: "It's the most amazing thing. I just can't even believe it."

The boys, whose condition occurs once in every 10 million live births, shared brain tissue and had entwined blood vessels.

They will soon learn to crawl, walk and lift their separate heads, which they could not do when fused together.